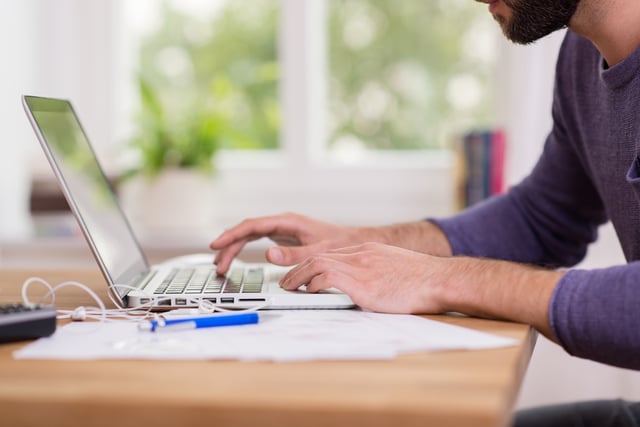 The COVID-19 pandemic rushed millions of employees into remote work. In a world where most businesses require full-time office attendance, companies were pushed to quickly adjust - and accept - the new virtual workspace. Even as stay-at-home and shelter-in-place orders are lifted, hundreds of businesses have decided to make (or are in the process of making) remote work permanent for all employees.
Remote work isn't a new concept. In fact, thousands of employees across departments and industries worked from home before it became this year's norm. Work was still done, projects were still completed, goals were still achieved.
So, why are some businesses still struggling to manage remote employees? And why do many employees still not know how to be productive working from home?
It's all about mindset. With the office no longer the backdrop of your business, it's time to reshape great in-office habits for the virtual workspace.
Supervisors need to support their employees as a remote team. Professionals seek working from home tips for productivity in order to get their work cadence back on track. Here's how both employees and employers can stay productive working at home together.
Tips on How to Manage
Remote Employees
As a supervisor, you are expected to manage the productivity levels of your workload as well as theirs. And with how much you have on your plate, you don't have time to babysit adults from a distance.
Approach how you manage remote employees like you do a business partnership. Establish communication, trust and reliability so that your employees stay productive and choose to stay employed at your business.
Define Team and

Individual Expectations

What level of quality do you expect? How do expect projects to be completed? In what ways do you want your employees to collaborate with co-workers?

To manage remote employees successfully, define all acceptable and non-acceptable behavior, from performance quality to peer interaction. Setting solid expectations of the team you manage provides the guidance your employees seek so that they can be more prepared for the projects at hand.

Provide Consistent and Structured

Check Ins

To an employee, talking with a supervisor is just as important as talking with their co-workers. And because you manage remote employees and hold the role of leader within your business partnership, it's up to you to initiate the conversation.

Establish both daily and weekly check-ins that are both regular and predictable in nature. These check-ins should provide a safe space for your employees to discuss any project issues or company concerns.

Supply Reliable Communication Tools

Email is not enough. You can provide a stronger virtual work environment when you manage remote employees by providing them all the communication tools that they need to stay productive.

Your employees should have team access to an internal chat messaging tool as well as a video conferencing tool that supports permission-based access when conference lines for agencies or external partners are necessary. If it's not feasible to purchase annual subscriptions, many tools offer free versions or free trials so that your team doesn't have to get by with just email.

Balance Schedules Accordingly

When you manage remote employees, you have a team who is likely working across time zones. Scheduling a 9AM meeting on the east coast means that remote employees on the west coast have to wake up at a not-so-ideal time to attend.

Choose times for conferencing that complies with everyone's schedule, no matter where they live. Remember to not throw them an urgent request at the end of their workday, even it is the middle (or start) of yours.

Focus More on Goals & Less

on Activity

As a team leader, your role is to focus on the big picture instead of getting tangled up in the details. Why do you care how a project is completed if it achieves the established goal?

Concentrate on what is being accomplished, not on how it is executed. Trust that your remote team is managing their time productively if they accomplish these goals. Activity should only be examined and reassessed if your team is continuously missing deadlines or if goals are not being met.
Tips on How to Be Productive Working
From Home
Staying productive while working at home starts when you retain successful office habits, eliminate distractions and commit to your job. See how these working from home productivity tips can help you transition into your new workspace without sacrificing the quality of your work.
Make a Plan

A great place to start when you don't know how to be productive working from home is to create a plan. Let your weekly personal work strategy be your self-motivation and discipline.

On Monday, jot down all the projects that require your attention this week, be it to move it forward or to complete. At the start of each workday (or at the end of the day prior), make a list of what tasks you aim to finish that day.

Stick to a Schedule

How you work shouldn't change because of where you work. The best working from home tips for productivity are rooted in routine.

Set specific work hours for yourself - this includes when you start your workday, when you plan to take breaks and when your workday ends. Set up your work calendar to support your schedule by blocking off time you plan to clock out. Discuss your schedule with your supervisor and teammates so they can support you and respect your schedule.

Create a Workspace

Your home is your safe space, where you hang your hat and check out after a long workday. So, it can be difficult bringing the office into your home without having the two blend together.

Choose a place in your home that is secluded so that you can concentrate without intruding on the lives of your household members. This designated workspace is where you answer emails, return phone calls and complete projects - not in front of the TV or at the kitchen table. Keeping your workspace separate from the rest of your home allows you to focus when it's time to be productive.

Lean on Your Project

Management Tool

Chances are, you're overburdened with multiple deadline-driven projects. And it's hard to keep track of every detail for each project without the in-person support of your team.

A project management tool often makes the list on how to be productive while working from home because of its effectiveness in getting things done. A robust tool allows you to track everything in one place, across teams, tasks and projects. If your team doesn't already have a project management tool, propose the idea to your supervisor or sign up for a free project management tool so that you have the tools you need to succeed.

Touch Base With Co-Workers

No matter your level of introversion, we are all still social beings. And working remotely means missing out on in-person interactions with your peers at the coffee machine, in the break room and during meetings.

While it may sound counter-intuitive, choose to follow working from home tips for productivity that encourage peer engagement. Check in with your co-workers every day on a chat messaging tool. Schedule weekly video calls to see everyone's face and provide a safe space to discuss project details. Even these brief social interactions can boost your mood and your motivation.
Need some guidance on remote productivity? You can choose to partner with a QA services provider like QASource. Our 800 experienced engineers are skilled in all approaches of QA testing and are well-versed in executed automated testing across functional and non-functional test cases. Get in touch with a QASource expert today.