Sentiment Analysis is a technique that makes it possible by sorting and analyzing thousands of opinions, feedback, and complaints. It allows organizations to identify the positive, neutral, and negative responses of end-users.
Sentiment Analysis

Every organization wants to have a robust business model catering to a wide audience. It's important to know the customer's preferences and requirements so that applications can provide a customized user experience. Understanding your user's sentiments play an equally important role in increasing the sales conversions and have a happy customer base.
Sentiment analysis helps product companies in evaluating the user experience and how their users feel about their product. Many industries, like advertising, gaming, healthcare, and education are adopting to Sentiment Analysis and Emotion Recognition. A recent research by Tractica revealed that the global market for Sentiment and Emotion Analysis Software would reach $3.8 billion by 2025.
Sentiment and Emotion Analysis Software Revenue by Use Case Category,
World Markets: 2016-2025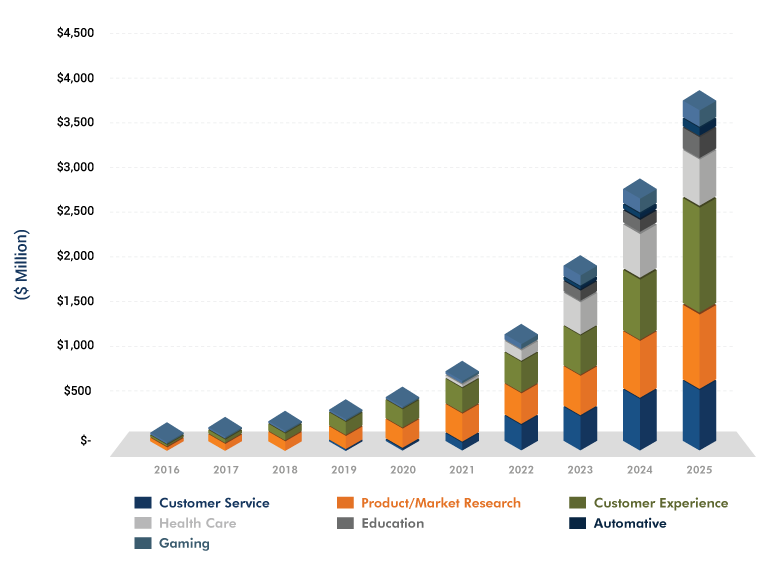 Source: Tractica
Why Is Sentiment Analysis Important?
A large amount of text data that comes from sources like surveys, documents, and social media is in a disordered state. It is hard to scrutinize and sort this data as it consumes a lot of time and involves high costs.
Sentiment Analysis overcomes these issues and allow organizations to save hours of manual data processing, increase the team efficiency, and get actionable insights.
Advantages of Sentiment Analysis:
Cost-effective
Process large amount of data in a cost-effective and efficient way.
Problem-solving with real-time breakdown
Discover critical information which let the product companies know the state of current affairs.
Persistent criteria
Organizations can apply the same criteria over the entire data using a centralized SA system.
How Does Sentiment Analysis Work?
Processes and algorithms are required to put Sentiment Analysis into action and that could be categorized as followings:
Rule-based System: Performed with manually defined rules
Automatic System: Performed with bots that would learn from data with Machine Learning approach
Hybrid Systems: It consists of the combination of both rule-based and automatic systems for accurate results
The parameters which play an important role to perform Sentiment Analysis are listed below:
Feedback and Review Provider: The resource who provides the opinion
Subject: The matter of discussion
Polarity: The positive, neutral, or negative sentiment of opinion
Sentiment Analysis System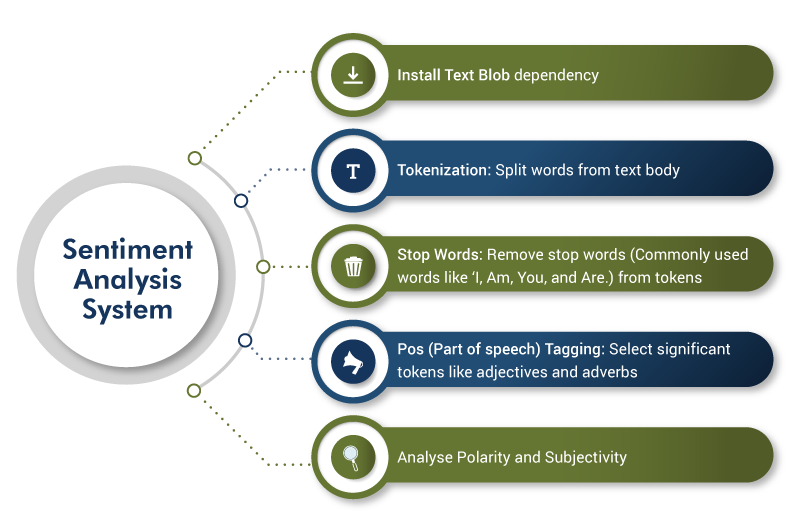 Testing Tips And Tricks

Outro
Sentiment Analysis is need of the hour
Data plays an important role in extracting the exact Sentiment Analysis
Knowledge of NLP and Python libraries are required for understanding the workflow of Sentiment Analysis System
Have Suggestions?
We would love to hear your feedback, questions, comments and suggestions. This will help us to make us better and more useful next time.
Share your thoughts and ideas at knowledgecenter@qasource.com