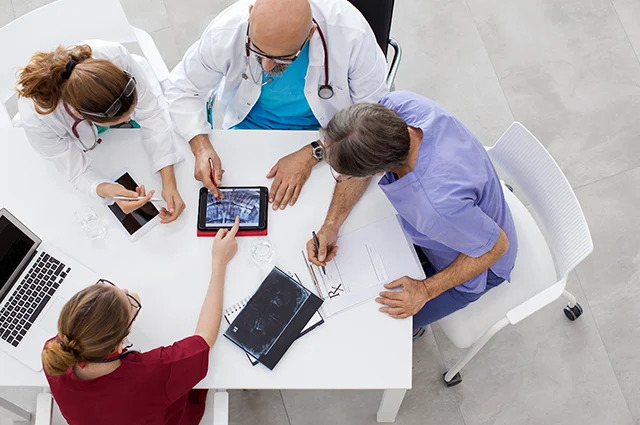 The COVID-19 pandemic brought a drastic change in people's lives and the business world. Even healthcare technology witnessed major advancements like telehealth, virtual medical assistance, and automated medical apps and software. Although, the transformation of the healthcare industry is running successfully, however, protecting compliance regulations is a bit concerning for healthcare organizations. And true to that, healthcare service providers and patients are not exempted from any compliances or regulations.
The Need for HIPAA Compliance
US Department of Health & Human Services (HHS) mentions that medical services suppliers and different entities managing protected health information (PHI) should move to modernized tasks, including:
Computerized physician order entry

(CPOE) frameworks

Electronic health records (EHR)
Radiology
Drug store
Lab frameworks
They should prioritize HIPAA consistency all the time. While integrating HIPAA guidelines with advanced technology provides expanded proficiency and versatility, they also improve the security of medical infrastructure against cybercriminals.
HIPAA Privacy Rule
The HIPAA privacy norms address the utilization and disclosure of people's well-being (health) data (known as "ensured well-being data") by substances subject to the privacy rule. These people and associations are designated "covered elements."
There are some security measures that should be maintained to protect HIPAA compliance.
HIPAA in telehealth
HIPAA compliance

video conferencing

How to be HIPAA compliant virtually
How QASource ensures following

HIPAA compliance
HIPAA in Telehealth – (Work From Home Guidelines)

During the COVID-19 pandemic, health care providers used remote communication technologies to communicate with patients and provide telehealth services.

During this time, health care professionals relied on any non-public facing remote communication product to provide telehealth services to patients using audio or video communication technology such as Apple FaceTime, Google Hangouts video, or Skype. When using such tools, providers should inform patients that these third-party applications may pose a privacy risk, and when employing such applications, they should use all available encryption and privacy options.

Healthcare providers encounter cyber-security and HIPAA issues when working from homes such as phishing emails, security breaches during video conferencing, and data breaches. Consider the following suggestions for keeping patient data private and secure while working from home:

Examine your company's workstation use policy, particularly the part about

remote access

Establish guidelines if you don't already have them

in place

Determine if employees will use their own devices or those provided by

the company

All employee devices, as well as their permissions levels to access sensitive information, should be documented

and inventoried

Create a daily communication plan for managers

and employees

Review your HIPAA training and the definition of a

data breach

Make use of encrypted email and go over all of your data

backup methods

Examine phishing email instances with your team, particularly those including COVID-19 as scammers are using phishing emails to make profits by

scamming people

Passwords and logins for hardware and software should not

be shared

Using a virtual private network (VPN) when accessing the workplace

network remotely.

Use a secure wi-fi network to access workplace information rather than a public

wi-fi network

Don't save information on public Google Drives or

thumb drives

Update all software, operating systems, and anti-virus software on your

home computer

Establish IT escalation procedures to help employees and talk about how to utilize devices

at home

Patient records should not be printed at home. Obtain a HIPAA-compliant shredder

if necessary

Track all company mobile devices and enable device wiping in the event they

are misplaced

The HIPAA guidelines on remote patient monitoring affect healthcare organizations or any doctor who provides online counseling to their patients. HIPAA privacy rule implies direct communication of doctor and patient remotely. Most people think that the communication between remote patients and doctors is acceptable, but it is only possible when they follow HIPAA guidelines

Sometimes when doctors want to provide HIPAA compliant telehealth services, it is expensive as well as complicated. Some organizations like Microsoft offer Skype for business, which is a HIPAA-compliant tool.

HIPAA Compliant Video Conferencing

While evaluating video conferencing tools, people consider factors like screen sharing capabilities, recording capabilities, the maximum number of persons attending the meeting, and the maximum duration.

Today, around 1 billion patients are attending telemedical appointments. Due to this, HIPAA compliance video conferencing tools are an urgent need in the healthcare industry.

Some of the HIPAA compliant video conferencing software are:

Zoom for Healthcare
RingCentral for Healthcare
GoTo for Healthcare
VSee

These tools help to improve the entire telemedicine experience and meet security standards. Also, these HIPAA compliant video tools help with different functionalities like providing assistance with scheduling appointments, providing medical advice, and doing regular checkups.

How to be HIPAA Compliant Virtually

In order to ensure that you are HIPAA compliant, follow the below-mentioned practices:

Share patient health information only with authorized users: It increases the security of data if only authorized users can access the patient's health information. It can be done when the software used for communication is secured. For this, software testing in the healthcare domain must be done to ensure the security of

the software.

Protect the integrity of PHI by using secure communication: While communicating with patients, healthcare providers must use secure applications to share patient health information and medical advice. They can't use unsecured communication like SMS, Email, and Skype to share confidential

health data.

Follow privacy rules: The privacy rule ensures that patients' and other parties' information stays confidential. It also allows the health worker to only share the important data to protect patients' health.

One of the most important aspects of this rule is the notice of privacy practices. Covered entities like health plans and healthcare clearninghouses must be created and updated as this document helps patients to stay informed about how their personal information is being used.

Follow the security rule: The security rule requires organizations to establish and maintain physical, organizational, and technological precautions to

protect PHI.

How QASource Ensures HIPAA Compliance

We at QASource follow the practices mentioned below to ensure that the client data is safe and secure while assuring that we adhere to HIPAA compliances:

VPN - Virtual Private Network: Remote working frequently implies interfacing your PC with the organization's virtual

private network.

QASource ensures VPN security by utilizing a strong conceivable verification strategy. Every VPN connection has its unique IP, username, and code.

QASource improves its encryption strategy for VPN access and uses only an official VPN. Use of public networks on official work computers is prohibited. We ensure our system is fully patched and updated before connecting to clients' VPN/remote network.

IT access and controls: Due to some IT security concerns, QASource works on blocking access to suspicious web pages, any unauthorized hardware devices, and online applications, including any extra controls

on systems.

IT generally knows what's happening. For instance, assuming somebody attempts to save/install/run any software, an organization-possessed PC should prompt them to get in touch with IT. In the event they endeavor to get to records, they don't have any permission for, logs should be made following that entrance back to a particular client record and gadget.

QASource ensures the below-mentioned system security measures:

IT -banned items

Personal laptop/desktop/iPad
Personal USB storage media, HDD/CD/DVD.

Hardware Security

System BIOS is password protected and locked.
CD/DVD writer is disabled.
Any external USB storage is disabled.

Data Storage and Transfer: QASource as an organization depends on cloud or server data storage. So, it ensures that the client and company data is secured in the

following ways:

By consistently using assigned SFTP only for any

data transfer

By keeping passwords and login information safe for hardware

and software.

By turning on two-factor authentication for online cloud drives and

confidential data

Non-disclosure of agreement (NDA) and PHI training for the members: QASource ensures maintaining the confidentiality of customer information. All these are part of NDA and are followed strictly. NDAs are meant for both organization and its members, however frequently they're one-way, meaning they explicitly safeguard the organization and

its data.

NDAs commonly cover points like "safeguarding delicate data," including things like innovations your organization is creating and the names of its clients, as well as "disclosure of secret data to anybody outside the organization."
What's Next?
HIPAA protects the confidentiality of protected health information (PHI) and we must comply with HIPAA.
QASource as an organization has the objective to guarantee that all stored and transmitted patient data remains secure, confidential, and accurate. This rule applies to a wide range of digital information, including electronic health records, cancer reports, lab data information, waybills, and test results. It doesn't matter if a doctor is accessing the lab tests from a mobile or has a remote video conference with patients, the system is following HIPAA guidelines for information security. To know whether you are following HIPAA practices when developing software or mobile applications, contact QASource now..