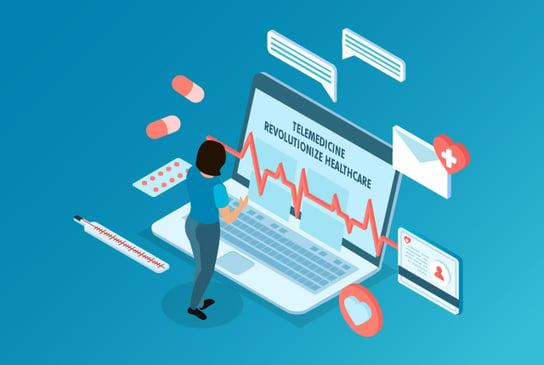 The term telemedicine is a word originated back in the era of 1950s, but back then it had an impact in extremely limited fields because of the lack of electronic devices and network technology.
The term 'tele' means distant and 'medicine' is simply related to the medical field. So, the combined term telemedicine refers to the process of sharing every kind of medical information over some distance. The medium to share medical information like images, X-rays, and other general discussions by hospital staff and medical practitioners can be mobile phones or laptops over the internet.
Talking about the history of telemedicine, the main concern was that only a limited number of electronic devices were available to exchange information. Moreover, no strong networking was developed then. But the current scenario has changed a lot. Smart and latest electronic portable devices, fast networking, and efficient technological hubs are available that have revolutionized the whole medical healthcare industry. The whole medical world has been shrunk to one's fingertips. With the advancement of technology used in medical healthcare, medical experts, practitioners, and interns from any part of the world can easily share the latest practices of treatment, X-rays and MRIs, information on organ transplantations, treatment videos, graphs, chemical compositions of medicines, and much more. Telemedicine has made wonders in the healthcare industry.
For instance, now a patient or a user no longer needs to wait in a queue to give any kind of medical samples and then go physically to a laboratory to collect the reports. It takes a few minutes for a sample to get analyzed by a medical expert with the help of machines and can be discussed with a medical expert over mobile phones or video calls and the same can be conveyed to the user even at a remote distance. In this way, the patient does not need to travel miles to get his treatment done. Also, telemedicine has helped all medical experts to easily discuss some sensitive cases to get the right treatment done and has saved the lives of many.
Medical Mobile Applications and There Testing
Practically describing there are many medical applications available in the healthcare market. The most common one listed here is "Practo." It helps patients to get every kind of medical assistance at home in a few minutes from the best medical experts all over the world. In addition to this, there are websites and applications available that manage the efficient working of medical laboratories to collect samples at home, send the concerned reports, and moreover, to suggest treatment through video calls. To make these kinds of applications and websites work effectively, software engineers working in software quality assurance companies play a crucial role. They ensure the efficient working of these applications by performing various tests. For example, a process called healthcare domain testing has been done to verify whether the standards of a particular software are met or not. Similarly, medical device software testing has been done to check the quality of software used in a medical device, so that it can be improved. Many other types of tests have been performed by such companies to ensure that there exists no gap between the medical devices, medical experts, and the user. In short, telemedicine has undoubtedly revolutionized the whole healthcare industry by making things available in almost no time and at the ease of both medical experts and users.