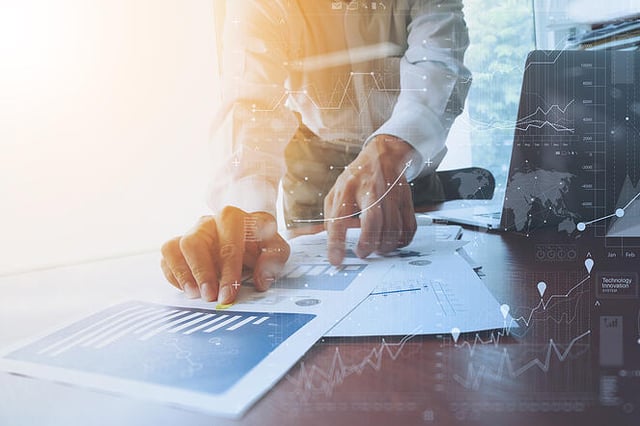 It should come as no surprise that HR departments have rapidly advanced over the last few years as HR tech rises up to support their organizational needs. And as HR technology accelerates in development, so too must the QA strategies that ensure its growth is on the right track.
This can leave HR professionals with a lot of challenging questions to answer. For starters, what is HR tech? What primary elements should you expect from an HR technology solution? How is tech transforming HR? And what QA strategies are essential for HR tech?
What Is HR Tech?
HR tech is a technology application or software solution designed for the department-specific needs of human resources teams to track, manage, pay, advise on and deliver benefits to the employees within the organization. HR technology provides professionals access to analytics, business intelligence, automation and industry standardization for HR processes such as hiring/recruitment, talent management, leadership, payroll, legal and compliance, mobility and corporate social responsibility.
Types of HR technology includes human capital management (HCM), human resources information system (HRIS) and human resources management systems (HRMS). The types of HR tech that an organization requires depends upon its company size as well as departmental goals.
Is HR Tech a Growing Industry?
We think so! With billions of people around the world working at companies big and small, there is always a need for a technology solution in this day and age. according to this research, the HR tech industry stands at $158 billion with an expectation to grow up to $400 billion. And with venture capital firms and private equity firms investing over $16 billion in startups and new ventures dedicated to HR technology, we can easily expect this growth to happen.
Primary Elements of HR Tech
Core HR tech solutions can perform the basics of human resource management. That being said, there's nothing basic at all about what human resources professionals must manage on a daily, monthly and annual basis. That means HR technology must be robust and complex in order to perform HR essential tasks. You can expect a strong HRIS configuration to feature the following core benefits within your HR software solution:
Time and Attendance: Employees can clock in and out while managers can approve timecards for both hourly and salaried employees.
Workforce Management: System keeps track of employee time off and vacation schedules as well as the allocation of people in shifts.
Benefits Administration: Your system should effectively and equitably distribute benefits amongst employees, including pension management and medical information (if applicable).
Org Charting: Help all employees understand who works for whom throughout the organization through an accessible, up-to-date org chart. This function becomes essential during layoffs, internal promotions and business restructuring.
Employee Communications

: Communicate with employees beyond a quarterly newsletter. Your software solution can allow your team to push out engagement surveys, email campaigns and feedback loops.



Here's How Tech Is Transforming HR
It's up to an organization's HR professionals to secure private data of all employees while storing all employee information effectively in order to elevate employee experience at the company. With HR tech rapidly advancing, human resources teams both big and small can streamline many essential HR processes, including:
Recruiting Talent: HR teams can use talent acquisition software to identify, recruit and onboard new employees to the company. This type of software solution often features an application tracking system (ATS), sourcing and recruitment marketing, pre-hire assessment and screening (A&S) and onboarding.
Evaluating Employee Performance: With performance management (PM) technology, HR teams can track goals and assess employee performance on an annual or bi-annual basis so that employees can stay on track in advancing within the organization.
Employee Training: A learning management system (LMS) allows a company's Learning & Development department to acquire, develop, design and deliver training modules for all company employees. HR technology advancements allow for remote and on-location employees to receive the training they need to excel in their current company role.
Payroll Processing

: This type of HR tech concentrates on preventing any delays in delivering employee compensation, from payday to sales compensation and executive bonuses. Payroll processing technology must understand employee information in order to apply correct benefits and tax deductions.
QA Strategies for HR Tech
Like any software solution, all HR technology must undergo consistent QA testing to validate its reliability and effectiveness within your organization. The needs of your department continuously change with leadership expectations and expanding responsibilities, meaning your software solution must be updated in order to keep up with internal demands - and strong QA strategies make that happen.
With a solid QA checklist for superior software development in place, your team should consider including these key testing practices to validate the dependability, security and accessibility of your software.
Security Testing

QA strategies for both HRMS testing and HRIS testing should always include extensive security testing. That's because security testing your HRIS configuration can uncover any risk, threat or vulnerability within the HR tech software system so that malicious attacks from both internal users and intruding criminals are prevented. Through proper security testing, your QA engineers can identify all possible loopholes and system weaknesses that could potentially result in company damage, from a loss of employee information to lowered revenue and weakened reputation.

API Testing

API testing verifies that all application programming interfaces (or APIs) communicate and exchange data accurately and safely across software systems. QA strategies for HRIS testing and HRMS testing must check for performance, reliability, security and functionality of all programming interfaces throughout your application. When testing your HRIS configuration, ensure that your QA engineers understand the difference between testing inbound and outbound integrations as well as a solid understanding of RESTful APIs.

Performance Testing

Successful QA strategies for HRMS and HRIS applications should always include performance testing so that your QA team can verify that all components within your HR tech software system perform as expected under certain conditions. By following this performance testing checklist for your HRIS configuration, your testing strategy should focus on validating the speed, reliability, response time, scalability and resource usage of the application.

Localization Testing

It's crucial for your HR tech solution to behave according to local culture, linguistics and settings. QA strategies for HRIS testing and HRMS testing choose to include localization testing so that the application maintains a seamless user experience. For example:

Is the date and time appropriately formatted?
Is the currency correct?
Does the provided keyboard reflect local language?
Do color schemes, symbols and icons match local expectations?
Is all text and graphics appropriate for this specific culture?
Does the system support all local legal requirements?
Do you find these QA strategies too intimidating to implement within your organization? You can still support strong QA practices for your HR tech by choosing to partner with a QA services provider like QASource. Our experienced QA engineers have years of experience in testing HR technology and are well-versed in helping teams apply strong QA testing practices within their company's development cycle. Get in touch with a QASource expert today.