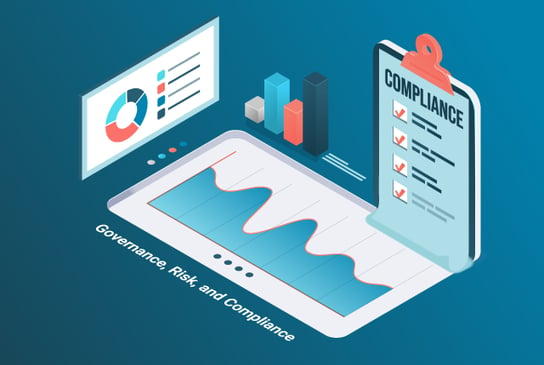 GRC (governance, risk, and compliance) gives enterprises the assurance and resources they need to run their businesses within the law. Too many organizations lack well-defined GRC initiatives or have the propensity to ignore funding them. Organizations must strengthen their resilience and get ready for dysfunction if they want to succeed in delivering value and prevent any delay. To ensure that the company can effectively ride the wave of these difficulties, businesses increasingly need to put in place the necessary processes.
The improvement of risk visibility, the alignment of GRC initiatives with business priorities, and the provision of forward-looking insights to support firms' prompt and decisive action must be the main focuses of the business case for GRC. One of the most crucial components any organization must implement to accomplish its strategic goals and satisfy the expectations of stakeholders is GRC, or governance, risk, and compliance.
What is GRC?
GRC or Governance, Risk, and Compliance refer to a strategy for managing and analyzing an organization's regulatory, audit, and compliance requirements, aligning the organizational process with business goals, and ensuring that risks are managed and mitigated. An organized method for coordinating IT with business goals is offered by the practices and procedures of GRC. GRC helps companies manage security and IT risks effectively, reduce costs, and comply with regulatory requirements. It also helps to improve decision-making and performance by providing a comprehensive view of how well a company manages its risks.
Fundamentals of GRC
Governance, risk management, and compliance are the three primary pillars of the discipline. We'll define and discuss each of these three fundamentals before moving on to what constitutes a GRC strategy effective.
Governance: Governance describes the combination of processes established by senior executives for running an organization efficiently, ethically, and effectively while achieving the organization's goals. The set of laws, rules, and practices that ensures business activities conform to organizational goals is governance at its most fundamental level. Responsibility, resource management, ethics, and management controls are all part of it.

Furthermore, governance makes sure that senior management can direct and influence operations at all corporate levels and that business units are aligned with customer demands and broader corporate goals. Effective governance produces a culture where employees feel empowered and where behaviors and resources are well-managed. One of the fundamental goals of governance is to strike a balance between the interests of the many corporate stakeholders, such as top management, employees, suppliers, and investors. By, for example, ensuring that agreements between the company's internal and external stakeholders are in place, governance may help to preserve this equilibrium.

Risk management: Risk management is a set of processes for identifying, evaluating, and prioritizing risks that might hinder an organization's business objectives. Risk management is the process of identifying, assessing, and limiting the financial, legal, tactical, and security risks to a business. To reduce risk, a company must deploy resources to monitor, control, and minimize the impact of unfavorable events while maximizing the positive ones.

In its widest definition, risk management refers to a system of people, processes, and technology that enables a company to define objectives in line with its values and risks. The basic goals of an enterprise risk management program are to achieve business objectives while optimizing the risk profile and protecting assets.

Compliance: Compliance is an organization's adherence to laws, regulations, and guidelines imposed by regulators and governmental bodies relevant to its business processes. Compliance is the act of adhering to instructions set forth by corporations and/or governmental organizations on rules, policies, standards, and laws. Inaction might lead to subpar performance, costly mistakes, fines, penalties, and legal activity.

Regulatory compliance describes how the business complies with pertinent outside laws, regulations, and standards. Corporate or internal compliance is concerned with the guidelines, legislation, and internal control measures put in place by a particular company. It is essential to integrate the internal compliance management program with the requirements of external compliance. The integrated compliance program should be built upon a process of creating, amending, sharing, and monitoring compliance rules. These policies should be taught to employees as well.

To focus resources in those areas and create a successful compliance program, organizations must identify the issues that pose the most risk. Ensuring that an organization's operations are in compliance with legal and regulatory requirements. Guidance must be developed to make it easier for employees and contractors to follow compliance standards.
Why is GRC Important?
GRC programs can help businesses make better decisions in a risk-aware environment. With the assistance of a successful GRC program, key stakeholders may set policies from a shared perspective and follow regulatory requirements. GRC harmonizes the firm's overall policies, decisions, and activities. The following are the advantages of establishing a GRC strategy for your business:
Data-driven Decision-making: You may speed up the decision-making process by monitoring your resources, developing rules or frameworks, and using GRC software

and tools.

Responsible Operations: GRC streamlines corporate procedures around a common culture that supports moral standards and promotes an atmosphere that is conducive to growth. It guides the creation of an effective organizational culture and moral decision-making inside

the business.

Improved Cybersecurity: Utilizing an integrated GRC approach, businesses may deploy data security measures to protect customer data and private information. A GRC strategy must be implemented by your business due to the growing cyber risk that endangers client data and privacy. It enables companies to follow data privacy regulations like the General Data Protection Regulation (GDPR). Both gaining client trust and protecting your business from penalties are feasible with a GRC

IT strategy.
What Are the Challenges Organizations Face
Without GRC?
Most organizations manage Governance, Risk, and Compliance separately. However, as the legal requirements and obligations are changing frequently; organizations find it exceedingly difficult to keep track of Governance, Risk Management, and Compliance objectives. Due to this, businesses are more exposed to risks and therefore, unable to respond quickly and efficiently.
What Role Does GRC Play in
Your Business?
Organizations of any size and domain that want to centralize their activities, manage risk effectively and swiftly, and stay on top of changing compliance can implement GRC. Some benefits of GRC are as follows:
Allow organizations to centralize audit and compliance requirements, making it easier to manage, monitor, and

mitigate risks.

An organization's decision-making improves due to accurate and uncomplicated risk and

compliance metrics.

There is an organization-wide joint effort towards the same goal, that is, Governance, Risk, and Compliance, which are not

managed separately.

Helps to Optimize and streamline business processes by identifying gaps and

unnecessary complexities.

Eliminates overlapping and duplicated GRC activities resulting in resource and

personnel optimization.

Contributes to overall ROI gains due to fewer incidents, and fewer

non-compliance fines.
Governance Risk and Compliance Tools
GRC software assembles the necessary GRC management programs into a solitary, integrated solution. It aids a business in logical, organized management of GRC-related strategy and implementation. Instead of having many discrete apps, administrators may monitor and enforce regulations using a single framework. Successful installations aid businesses in managing complexity, reducing installation costs, and controlling risk.
Tools for risk inspection and risk assessment that demonstrate links to operations, internal controls, and business processes are part of successful GRC software. To assist in identifying the processes and resources employed to manage such risks, the single, multipoint, and enterprise-wide software the organization now uses will be linked with GRC software. Additional features offered by GRC systems include problem tracking, document management, policy management, audit management, third-party risk management, operational risk management, and IT risk management.
What Risks Are You Keeping In Mind While
Implementing GRC?
There is no 'one size fits all' approach to GRC and effectively implementing the same can be really challenging.
Unfortunately, if GRC is not implemented correctly, it may lead to the below-mentioned issues:
High GRC implementation cost
Breakdown of coordination between multiple departments of

an organization

High compliance costs
Ineffective risk minimization
Role of QASource
After you have established the best set of controls for your business, clearly defined your organizational objectives, and developed an effective communications strategy, the appropriate tools and technology can assist you in maintaining control over your GRC activities. QASource provides complete end-to-end testing of products, test automation with an automated pipeline, and implements QA processes to ensure the quality of products and helps the client to find bugs prior to release and deliver a quality product. To learn more about our services, contact us today!