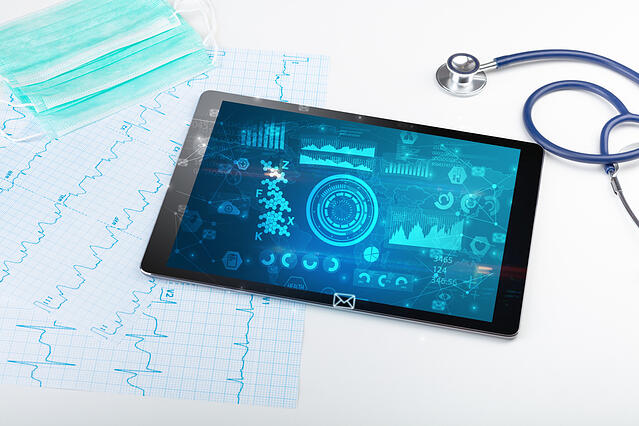 Telehealth software in the healthcare industry is now more relevant than ever. From small medical practices to large hospital networks, patients attending a medical appointment via telemedicine software is becoming just as common as an in-person visit to the doctor's office.
Has your organization adopted a remote healthcare platform? Without a strong telehealth software solution in place, your medical team may not be keeping up with industry expectations when crisis occur and is missing out on opportunities to provide the virtual clinical care many patients need.
But what is telehealth software? What is the difference between telehealth and telemedicine? And which factors are essential in choosing a telehealth software platform?
What Is Telehealth Software?
Telehealth software is a broad range of technology platforms designed to deliver health care, health information and/or health education not in person but from a distance. The best telehealth software supports all stages of remote clinical services so that your organization can provide the best patient care during circumstances where in-person care is not possible. The goal of telehealth software is to improve the healthcare delivery system by supporting the needs of all users of the software system, from patients and doctors to administrative executives and medical support teams.
Telehealth vs. Telemedicine
When choosing a telehealth software platform, your search may likely include available telemedicine software options. However, there is a key difference between telemedicine and telehealth. It's this difference that can make the best telemedicine software not the right fit for your organization when what you really need is the best telehealth software system to deliver your organization's needs.
Telemedicine focuses specifically on delivering remote patient care and health education services. Telemedicine incorporates the use of software and electronic communications so that patients can receive clinical services from professionals without a traditional in-person visit to a medical facility.
Telehealth encompasses a wider range of remote healthcare services. In addition to remote clinical services, telehealth can also provide software solutions for remote non-clinical services. Telehealth software can also support provider training, administrative meetings and continuing medical education.
Is Telehealth Software Required to Be
HIPAA Compliant?
It's mistakenly accepted by many medical professionals that communicating electronic protected health information (ePHI) is an adequate practice when that communication takes place directly between the physician and the patient. However, it's the channel of communicating ePHI that can put a patient's sensitive information at risk to non-authorized users.
To be HIPPA compliant, medical professionals must adhere to rigorous standards for ePHI communication. According to the HIPAA Security Rule, an organization must implement a secure communication system designed to protect the integrity of ePHI and prevent accidental or malicious breaches.
The best telehealth software providers, including the best telemedicine software solutions, are HIPAA certified and structure their platform so that it is in full compliance with HIPAA. For further assurance, your organization should also follow these software testing strategies to comply with HIPAA. Because all essential updates and new features must continue to abide by these strict medical guidelines, these software testing tips can confirm HIPAA compliance now and in the future.
5 Factors When Choosing a Telehealth
Software Platform
What's Your Specialty?

No two medical organizations are the same. The telehealth software needs of a hospital contrast greatly to the needs of a smaller medical practice. A mental health specialist relies on a telemedicine software platform in a different way than does an ophthalmologist.

The best telehealth software solution for your organization is a platform that is designed to support your medical specialty. If your organization provides a specific service, choose a platform that can most readily provide the support that your practice and patients need. If your organization supports multiple specialties, choose a versatile, comprehensive platform with diagnostic tools so that the solution provides assistance to all system users.

Security

How does the telemedicine software store patient health information? How does the telehealth software secure that sensitive information? And is it HIPAA compliant?

To maintain HIPAA compliance, an organization must follow HIPAA's Security Rule which states:

Only authorized users should have access

to ePHI.

A system of secure communication should be implemented to protect the integrity

of ePHI.

A system of monitoring communications containing ePHI should be implemented to prevent accidental

or malicious breaches.

The best telemedicine software exceeds the 128-bit HIPAA standard, and provides strong encryption so that your data, including ePHI, can only be accessed through authorized means. When choosing your telehealth software platform, review all the security features and confirm that the provider offers the most secure system.

User Experience

There are many ways that telemedicine software can remotely connect your patients with medical professionals. And the best telemedicine software platforms provide a comfortable experience for your patients as well as for your medical team.

But which remote enablement best supports your needs? When choosing a telehealth software system, ensure that the remote communication features fully support all interactions between patients and physicians.

Video Conferencing: Does the system provide high quality in video and audio? Can it support screen sharing and two-way interactions? Is the video connection encrypted and secure? Are all platforms and

devices supported?

Chat Enablement: Can text-based messages occur in real time? Can patients and physicians communicate successfully before, during and after an appointment? Is the feature

HIPAA compliant?

Scheduling: Can patients set up appointments easily once logged into the system? Does the system push confirmation and reminder communication to patients? Can your medical team easily provide scheduling availability within

the platform?

Electronic Prescriptions: Can a physician create and send prescriptions easily to a patient's pharmacy? Is it easy to refill a prescription? Is the prescription sent to the pharmacy through secure,

encrypted means?

Virtual Waiting Room: Is the virtual waiting room customizable? Can the patient see where they are in line and an estimate on when their appointment should begin? Can patients access educational materials, including videos and images, while

they wait?

Integration Capabilities

Delays in routine processes often happen when your team must manage multiple tabs and applications in order to digitally access vital information. And without integration, important data cannot be communicated across programs, leading to missed appointments and lost patient information.

The best telehealth software should allow you to access all your information from the same interface. Integration with your EMR software and practice management software is standard across the best telemedicine software solutions on the market. When choosing a telehealth software platform, ensure that it can integrate with additional third-party applications so that scheduling, accounting and operations management happens all in one place.

Price

No matter your budget, price (including any associated fees) always factors in your decision when choosing a telehealth software system. Because telemedicine is relatively new and continuously evolving, offerings can range from inexpensive, basic platforms to pricey, all-encompassing systems.

A simple telemedicine software solution often serves mainly as a video consultation platform, while more complex telehealth software providers offer remote diagnostics and triage. Depending on the complexity of the system, monthly subscription rates per provider can range from under $100 to more than $800. Some platforms, although not as common, can be purchased by capital expenditure with a price tag of tens—or hundreds—of thousands of dollars.
What's Next?
Choosing the right telehealth software platform is only the first step. Implementing the best telehealth software solution within your organization can be a daunting task, especially when best practices for healthcare software testing aren't in place.
Ensure that your telemedicine software solution or telehealth software system exceeds all user expectations by working with a professional QA services provider like QASource. Our team of healthcare domain experts are skilled in all industry healthcare standards and can confirm that your platform complies with all HIPAA standards. Enjoy the advantages of outsourcing quality assurance for your healthcare platform so that your patients and medical team receive all the benefits from their telehealth experience. Get in touch with a QASource expert today.