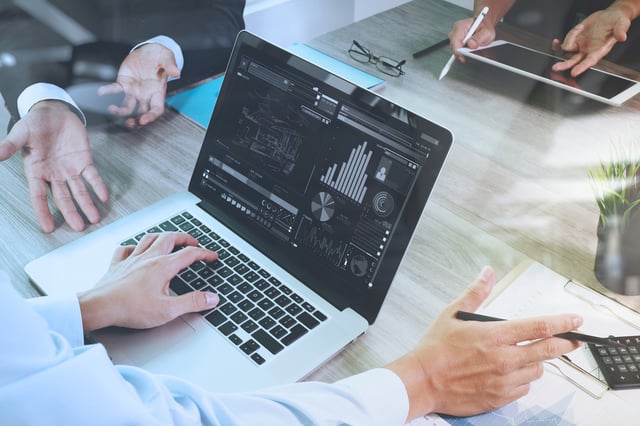 HR is no longer an old-school practice. HR teams across industries are adopting technology solutions in order to streamline internal practices, recruit talent, retain employees and reduce costs. And when companies choose to implement this year's HR tech trends, they are receiving the most value from their investment.
But which HR tech trends produce the greatest results the fastest? And how can your HR team keep up with the latest trends in HR technology?
See how this year's HR tech trends are changing the HR landscape so that companies can provide more value to employees and even greater value to the business.
Remote Work Is Now the Norm

More businesses are accepting, even embracing, the practice of remote work. Some enterprises offer flexible scheduling with the benefit of work from home days, while some companies run their entire organization as a remote team. And let's not forget that 2020 saw thousands of organizations updating their internal policies to support remote work in order to keep business on track.

So, how does work from home and remote work options impact future trends in HRIS? With increased workplace flexibility for employees, HR technology must adapt to the needs of dispersed teams. We predict seeing HR tech trends that provide an on-demand, online platform where employees can streamline their collaboration and conferencing, as opposed to shuffling around a variety of tools to make ends meet.

Recruiting and onboarding remote employees are also emerging trends in HRIS. HR technology must be built to support the need of interviewing and assessing skills of candidates both on-location and remote. While generic tools exist for HR professionals to lean on, we expect to see HCM trends shift to incorporating these tools within HR technology platforms.

Increased Implementation of Cloud-Based HR Tools

As more businesses seek to upgrade their IT infrastructure, expect HCM technology trends to shift towards implementing cloud-based HR tools. Larger organizations are more willing to trust cloud-based tech solutions as more technology leaders confirm the stability and maturity of cloud-based applications. While cloud-based HCM and HR tech are not new trends in HRIS, we anticipate seeing more companies choosing cloud-based technology for their HR needs.

Continued Application of AI

Artificial Intelligence and Machine Learning aren't new trends in HRIS, however its application within the HR space is. In fact, AI continues to resurface as HR tech trends within the hiring process as artificial intelligence is applied in identifying top candidates through job-match scoring within the software. AI-driven algorithms are more prominent in the screening process at many companies, analyzing candidate criteria from work samples and letters of recommendation to social media posts.

AI won't just be impacting the recruitment process. We expect artificial intelligence to provide more assistance as more HCM systems expand their information discovery tools and data analysis.

Consistent, Real Time Performance Feedback

The traditional performance review cycle is outdated in comparison to these emerging trends in HRIS. HR tech trends like pulse surveys and real-time feedback channels allow supervisors to remain more aware of their employee performance throughout the year instead of delaying the process to an annual evaluation. And many HRMS solutions support providing consistent feedback at a regular pace so that supervisors can provide their employees opportunities for professional development and career growth year-round.

Self-Service Technology

It's a burden on HR professionals to process routine changes for hundreds of employees, from address updates and tax withholdings to benefit changes. It should then be no surprise that employee self-service options are predicted to be the future trends in HRIS. Employees can quickly update their information accurately within the HR system, HR professionals can reallocate their time towards tasks more beneficial to employees and the organization, companies can reduce costs - all the more reason why self-service HR tech trends are increasing in popularity.

Heightened Demand for Wellness Technology

Just as more employees expect companies to offer wellness benefits, more businesses find value in supporting employee well-being. We are already seeing HCM technology trends offering employee access to a variety of wellness apps, including those designed for fitness goals and virtual access to mental health professionals. We predict the integration of these wellness apps within HR technology for a more streamlined internal experience as future trends in HRIS.

Rise in Unified Engagement Models

There are too many tools across departments and projects for employees, supervisors and executives to learn, maintain and analyze. So, what if the future trends of HRIS was to provide a one platform for all internal users to execute their digital work, even non-HR tasks?

Emerging trends in HRIS include eliminating the need for multiple system interfaces and replacing that UI with a digital experience unified across the organization. Unified Engagement Models promise to reduce time on platform onboarding and task execution as well as decrease frustration caused by juggling multiple platform experiences.

Leveraging AR for Training

Augmented reality (AR) is gaining momentum across the HR industry as a valuable tool for employee onboarding and training. These AR experiences are quickly becoming HR tech trends as more companies recognize the value of creating immersive, interactive engagement scenarios for candidates and employees. AR has already been applied to a variety of HR applications including testing job-specific skills of candidates and showcasing a virtual office tour to new employees and/or investors.

Training sessions applying augmented reality are HCM trends we expect to increase over the next few years. AR-based training provides a more realistic training environment to employees working remotely or who don't have immediate access to a real-world environment pertinent for specific training.

Fully Integrated Mobile Applications

There's no dispute that mobile is the "IT" platform of the decade. The prominence of mobile in the marketplace opens doors for new advancements in HR tech trends, from mobile-first design to special features only available to mobile app users. HR technology must be on the ready for on-the-go HR tasks, including recruitment and employee onboarding. To keep up with these HCM technology trends, make sure your HR tech is built to support all makes and models of mobile devices.

Voe Technology Grows in Popularity

Workplace culture can make or break an organization. That's why more companies are intrigued by the upcoming HCM trends of Voe technology within HR solutions. Voice of the Employee (Voe) technology collects and analyzes the opinions, perceptions and emotions of employees within a company. Current HR tech trends monitor employee feelings through Voe technology such as feedback tool and surveys to improve employee engagement and retention. We predict future HR tech trends to incorporate AI in collecting and analyzing this data so that HR teams can react faster to employee sentiment.
How To Keep Up with HR Tech Trends
Keeping up with the latest new trends in HRIS goes beyond investment and commitment. HR teams must stay keen on how to use these updated technology interfaces as well as execute a strong strategy in implementing these changes across the organization. This can be difficult to carry out, especially if your HR team is small or if your department is restricted on resources.
There is an affordable way to get the help you need on making this a reality. Stay on top of upcoming HR tech trends by partnering with a trusted, professional QA services provider like QASource. Our experienced QA engineers are well-versed in testing HR technology and are highly skilled in helping your HR team customize HR tech solutions to best fit the needs of your organization. Get in touch with a QASource expert today.