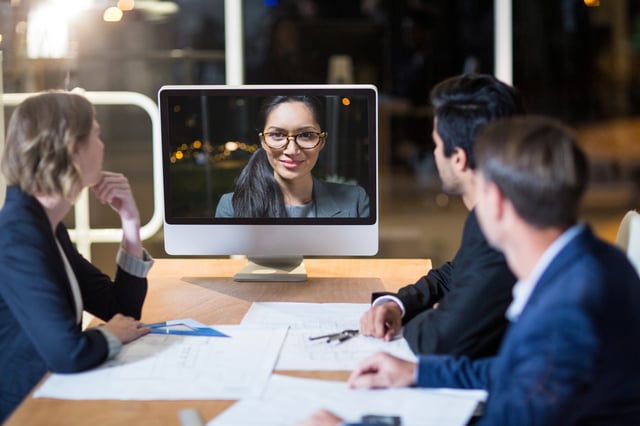 The 2020s are officially the decade of virtual events. The reasons why seem endless - event venue shutdowns due to COVID-19 mandates, social distancing protocols shifting in-person events, attendees leery about travel or large group gatherings-situations we never thought were possible back in 2019.
In today's world, organizations have the choice of cancelling their in-person events or relocating them to an online event platform. But how does an event host easily shift towards providing a seamless digital event?
With the right live event software, of course! But what is virtual event software? What are virtual event software features to consider? And what are the best virtual conference platforms in today's market?
Let's explore what you should expect out of your virtual event platform so that your organization chooses the best platforms for your upcoming events.
What Is Virtual Event Software?
Put simply, virtual event software is an online tool that allows event hosts to produce a long-form digital event experience. The best virtual event platforms allow conference creators to create live and/or recorded sessions as well as the ability to interact with virtual attendees.
The goal of virtual conference platforms is to provide the immersive, experiential charm of the in-person event through live event software. An organization may choose to host an event through virtual event planning software because:
An in-person event now needs to be held virtually
Providing supplemental virtual events builds up anticipation for a rescheduled

in-person event

Expanding their reach on attendees provides more opportunity
A virtual event platform may be more cost-effective than hosting a live,

in-person event
Event Management Platforms vs Virtual Event Platforms
The best platforms for virtual events share many of the same features as event management platforms. Both support the creation of an event-specific webpage or portal. Both provide customizable forms and payment processing for registering attendees and exhibitors. Both allow event organizers to view and manage attendee lists. And both offer marketing features such as social media integration and attendee satisfaction surveys.
So, what is the difference between the two?
It all comes down to delivery. An event management platform focuses on the management of in-person events, while a virtual event platform facilitates the experience of a digital event. In other words, an event management platform provides an online experience for pre-event coordination and post-event follow-up while the best virtual event platforms provide digital support throughout the online event experience.

Virtual Event Software Features To Consider
Customization

Your virtual event needs a way to stand out, especially since most organizations these days are opting for an online experience. And what better way than personalizing your virtual event?

Like event management software, the best platforms for virtual events provide customization features, from a branded event website and web room to customizable registration abilities and email templates. Continuous branding and event messaging across the online event platform experience creates a consistent experience for your attendees.

When talking with a virtual event software provider, make sure to ask:

Is customization and personalization available on your

event platform?

How much can we customize the online event experience?
Are any branding opportunities available?

Automation Capabilities

Want an easier planning experience that saves you time and money? Then automation features are a must-have for your live event software.

Virtual events often need to be created quickly, so automation capabilities allow your team to fast-track that event management process. When reviewing the best virtual conference platforms, make sure to ask:

How does the backend of your platform function?
How automated are the systems within your platform?
How automated are the processes of uploading data and creating

event pages?

Options for Live Broadcasting and Pre-Recorded Sessions

When it comes to virtual events, flexibility is key. Preparing pre-recorded sessions allows your event to feature high-profile speakers with scheduling conflicts. Presenting live broadcasting creates a sense of urgency for your attendees to register for your event. And like in-person events, it's crucial to have both options when unexpected obstacles arise.

When talking with a live event software provider, make sure to ask:

Does your platform support both live broadcasting and

pre-recorded sessions?

Does your platform support multi-speaker sessions?
Are live broadcasts supported by automated subtitles in

various languages?

Can pre-recorded content be scheduled on your platform?

Analytics and Reporting

Data determines the success or failure of your event so that your team can further improve future events. After all, how can your team optimize the event planning process without stats and numbers?

So, which analytic and reporting features are essential for your online event? When reviewing the best virtual event platforms, make sure to ask:

Does your platform provide reporting insights across all event phases?
Do your analytics capture attendee interests, touchpoints and activity?
Is a real-time metrics dashboard available? And is it customizable?

Integration Features

The best platforms for virtual events can "talk" and connect with your essential systems. Your virtual event planning software should be able to integrate seamlessly with your event management software as well as your social media channels. That way, your organization saves time and money while your attendees enjoy a polished online experience.

When talking with a virtual event software provider, make sure to ask:

How easily does your platform integrate with event management software and

social media?

How professional are your event registration services?
Is a mobile app available for attendees?
How easily can attendees engage via social media through

your platform?
Top Virtual Event Software Platforms
BigMarker: This online event platform doesn't require any download for your attendees to join the virtual event - simply provide a URL and your participants are good to go. BigMarket supports both live broadcasting and pre-recorded scheduled content compatible for any online webinar, summit or conference.
WorkCast: As one of the best platforms for virtual events and webinars, WorkCast is a fully web-based platform backed by a team willing to set up your event on your behalf - when you provide them all session information and content, they get to work on all technical deliverables. This virtual event platform also integrates well with HubSpot, Marketo and Eloqua.
INXPO: This is considered as one of the best virtual conference platforms because of the video software's security, reliability and scalability. INXPO offers webinars, webcasts and live streaming events with options for full event management. This platform also features a virtual lobby where attendees can create digital avatars and interact with other attendees.
Brazen: For recruiting and hiring events, consider Brazen as one of the best virtual event platforms for recruitment. This live event software goes beyond the Apply Now button by allowing employers to engage with candidates through scheduled chats, recruiting chatbots and programmatic advertising.
Bizzabo: Consider this your all-in-one virtual event planning software. Organizers can manage events from start to finish, including registration, branded mobile event app, event website builder, networking, contact management, polls and surveys, sponsor management, agenda customization and analytical dashboards. Bizzabo also integrates with more than 1900 applications, including Salesforce, HubSpot and Marketo.
Beyond Choosing Virtual Event Software - What's Next?
Selecting the right virtual event platform is just the beginning. Because your audience expects a customized experience, your live event software needs customized testing that ensures the security, performance, functionality and user experience of your online platform.
Not sure where to start? Partner with a QA services provider like QASource to test your virtual event software application. We have over 800 experienced engineers skilled in QA testing online event platforms, including live streaming functionalities. Our team of experts can accelerate the testing process so that your virtual events keep up with today's digital demands. Get in touch with a QASource expert today.