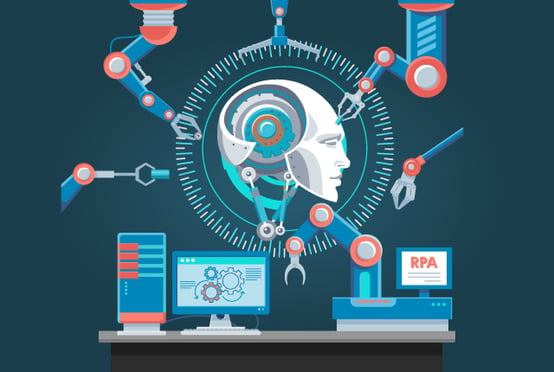 In today's fast-paced environment, businesses are working on creating processes that can save time, streamline efforts and help them be more efficient. It is not necessary that everything needs to be done by a human, especially when the tasks are predictable and repetitive. Here, RPA comes into the picture and becomes a vital factor. RPA is a technique that helps in replicating tasks of a real human. RPA can help businesses in automating rule-based actions, and multi-step, repetitive manual tasks to reduce human efforts. This leads to improved efficiency, reduced cost, and higher productivity in a business when implementing the RPA process.
Different RPA Integrations
ERP (Enterprise Resource Planning) process is used to integrate all the business processes into a single system. This way companies can store all the important information in one place and reduce complexities. Many tasks in an enterprise are important but repetitive, time-consuming, and require manual support. These tasks can be highly error-prone. By automating these tasks with RPA, the chances of errors become minimal. Businesses have started recognizing the huge potential of RPA. RPA can be integrated with various other technologies to bring out the best in them. It is worth looking at the benefits of implementing RPA with other technologies. Technologies, which can be integrated, are listed below:
Integrating RPA with Salesforce

Salesforce provides Customer Relationship Management (CRM) services. It has various cloud-based services like sales, support, and marketing. Salesforce has various tasks that can be predictable and repetitive. These tasks depend on various business processes including workflows, rules, reports, and data extraction. RPA's role in Salesforce provides consistency across automation processes and delivers relevant information in a short duration of time. The task of moving files from one location to another can be considered predictable and can be easily automated with the help of RPA. RPA integration with Salesforce can automate processes which include customer support, the creation of an account, lead creation, quotes generation, contract management, and routine sales activity.

The RPA process mimics human actions faster and leaves very little scope for any error to occur. This leads to better time management and helps to focus on tasks that require the critical thinking of a human. RPA bots can work 24/7, thus multiple complex tasks can be managed easily. This all leads to an increase in the overall productivity of a business.

Benefits of Integrating RPA with Salesforce

Improved customer services by escalating customer issues and keeping customers notified of progress.
Exporting reports in Salesforce can be streamlined. Also, RPA integration makes reporting faster and data entry much easier.
Increase in revenue as the administrative cost is reduced which makes CRM implementation much more profitable.
Integration of Salesforce reports with third-party business/applications.
Increase customer retention by tracking updates and notifying the sales team
Continuously monitoring contract management and automatically triggering notifications on contract or document expiration dates automatically
Automate data entry tasks in CRM and eliminate human errors.
Generate user case assignments for customer issues and trigger notifications to customers on important solutions
Easily find information in Salesforce

Use Cases of Salesforce with RPA

Data Extraction from a website or emails
Automating the process of sending emails
Using Chatbots for customer queries
Data transfer between Salesforce and some outside systems.

Integrating RPA with SAP

SAP is one of the biggest producers of business process management software and the developer of solutions for effective data processing. It is the most commonly used ERP software in the market. It consists of applications or modules wherein each module represents a specific business area. It helps organizations adapt according to market trends and run their businesses profitably. SAP processes like finance & accounting, sales, recruiting, and reporting are repetitive and require human intervention. Thus, RPA integration with SAP can be used to automate SAP processes and the focus can be shifted to more valuable tasks.

RPA can help to make these repetitive and time-consuming processes cost-effective and less laborious. RPA robots can do these tasks much more easily, provided they are given all the necessary details related to the task. They can handle almost all structured tasks.

Benefits of Integrating RPA with SAP

Enhanced efficiency and increased productivity of an organization.
Meeting SLAs and commitments made with internal and external customers.
Eliminating repetitive, error-prone, and tedious tasks so users can focus on high-value tasks which resulted in an increase in efficiency
Automation saves time and resources which means an automatic reduction in cost
Automates data entry process with minimal human errors.
Improvement in accuracy in the business outcomes

Common use cases where SAP is using RPA are as follows

Form filling
Inventory and supply chain management
Sharing data between SAP and other external applications
Comparing two or more data fields on the screen
Finding an exception in a process
Data Extraction
Screen scraping data

Integrating RPA with AI

AI is the replication of capabilities of the human mind like reasoning, learning, and problem-solving. It can perform tasks by perceiving the environment and responding intelligently to triggers. The scope of RPA is almost boundless when merged with innovative technologies such as AI or ML. These intelligent bots can simulate every human interaction and can be advantageous for any industry or domain. ML is used to connect to robots to deal with data more efficiently by stimulating the learning concept of rational beings. On the other end, with AI services, these bots can reflect human characteristics and make precise decisions on task completion. Given the potential of AI applicability, intelligent automation (IA) has constantly been adding to its digitization capabilities. AI integration with RPA leads to intelligent automation. IA provides a set of tools that can remove repetitive and routine work and improve customer experience. It helps organizations to stay competitive whereas organizations that are still using manual processes cannot keep up with the changing market trends.

With intelligent automation, organizations can reach targets that are beyond human capabilities like processing millions of documents a day and finding and resolving issues within each. By integrating AI with RPA, software robots can work with unstructured data and learn from human feedback. Thus, intelligent automation helps to get faster and more accurate solutions.

Benefits of Integrating AI with RPA

Helps organizations in dissecting and analyzing large chunks of disorganized data
Assists in finding processes in the system which require automation
Helps organizations to identify redundant jobs and reduce operational cost
Eliminates human involvement and reduces errors
Provides unparalleled customer experience, improved accuracy, and yields better ROI

Use cases of AI integrated with RPA

Customer support
Intelligent document processing in identifying document type and its processing
Prediction of changes in supply and demand and adjusting production accordingly.
Moving files and folders
Read/write to the database
Why Choose QASource for RPA Solutions?
QASource can assist organizations by providing various RPA solutions that can reduce the load on their workforce so that they can focus on high-priority tasks and do the needful for the growth of the organization. QASource can provide robust RPA solutions for data management, business workflow management, and operational costs. Managing the data is a very important task in any organization and QASource can help manage data-related tasks like data migration, data recovery, and data analysis. Industries that can benefit from the RPA solutions provided by QASource are finance, healthcare, sales, manufacturing, telecom, and many more. To know more, contact QASource now.