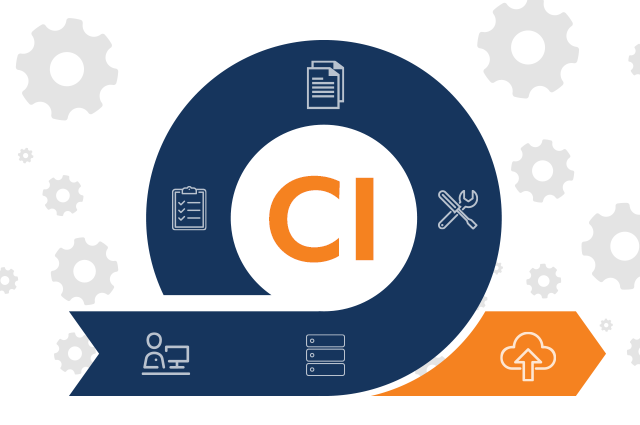 If you could create a safety net to protect your product's user experience, would you? Is it even possible to prevent the possibility of consumers discovering bugs and defects after deployment, all while maintaining speed to market?
With continuous integration QA, your team can get your product to market quicker without the risk of pushing bad code to production. With a well-developed continuous integration process in place, your team can build necessary test components within every collaborative development cycle, removing delay and minimizing risk.
In this guide, we aim to answer your most pressing questions about the continuous integration process, including:
What is continuous integration?
What are the benefits of

continuous integration?

What challenges should I expect with continuous

integration testing?

What continuous integration tools should my

team consider?
What is Continuous Integration?
Continuous integration is a software development practice that encourages implementing code changes regularly and into a shared repository. The continuous integration process encourages small changes more often instead of committing large changes intermittently. Developers normally use continuous integration tools to integrate code changes multiple times each day, triggering continuous integration QA testers to perform tests that identify if any bugs or defects arise from the updated code base.
What is continuous integration without continuous delivery? While continuous integration focuses on the regular updating and testing of the code base, continuous delivery ensures that all code changes approved in the development and testing environments can easily be deployed to production. In other words, your team can easily release your builds ready for market with one click.
Advantages of Continuous Integration Testing
Increase Your Testing Coverage: Testing most of your code base isn't enough. A CI server can review your code base for test coverage, exposing which parts of code still need testing. It's a strong motivation for QA teams to write better test cases once they have full visibility on

test coverage.

Identify Integration Challenges Earlier: In many development cycles, testers have to wait weeks to test and discover defects within the code. Continuous integration teams have developers update code regularly and testers using continuous integration tools to check the code routinely for issues, making it easier to identify the problem so that developers can resolve it sooner. CI also prevents developers from building code on top of

defect code.

Decrease Time Spent Reviewing Code: Continuous integration QA can be set up so that your CI and Version Control System communicate with each other and notify you when a merge request is approved—meaning all tests have passed and the code meets all requirements. The difference in code coverage can be reported right from the merge request, effectively reducing the time needed for reviewing a

merge request.

Faster Feedback Loops: It's difficult for developers to prioritize what code changes to make without first receiving feedback on their previous code changes. And waiting too long to test code can make it difficult to pinpoint where the issue lies in the code and who made those changes. Continuous integration combats this by allowing QA testers to provide feedback to developers so that they can resolve bad

code sooner.

Reduce Dev and QA Costs: Automating your QA process with continuous integration tools can reduce the number of errors that can take place during continuous integration QA testing. Teams can drastically improve code quality and increase ROI by simply following a strong test automation checklist during CI

QA testing.

Ensure a Positive User Experience: With so much variety in the marketplace, consumers do not have to settle for your software application's shortcomings. Fortunately, continuous integration is designed so that bug fixes and new features can be delivered to your users faster. This continuously improved user experience leads to customer loyalty, positive reviews and

higher revenue.
Challenges of Continuous Integration Testing
An effective continuous integration process doesn't happen overnight. In order to receive all the benefits of continuous integration QA, your team must have a plan on how to overcome these common challenges:
Extensive Planning: Because your team tests more often and for shorter intervals, QA must be factored into the overall development plan early and often and should be included when selecting the right continuous integration tools. A comprehensive strategy must be in place so that everyone on the team understands each step of the new workflows and internal processes. While this takes time to deliver, you can expect time-saving results within your upcoming

development cycles.

Resistance Towards Team Coordination: Continuous integration testing can initially seem to your developers like a series of interruptions to their workflow. Engineers accustomed to completing code tasks and then throwing a final product over the proverbial fence for final testing may often resist change. To overcome this hesitancy, consider explaining the benefits of the continuous integration model to your developers and QA engineers. For example, continuous integration QA provides greater transparency into your test environment, empowering developers with regular feedback while providing QA testers more insight for solving

problems in testing.

Infrastructure Investments: A team can only

scale with continuous integration

when there's a budget to provide the infrastructure needed to accelerate delivery and increase product quality. To receive internal buy-in on funding a CI infrastructure, present to your key stakeholders the benefits for the overall business, including expected ROI, and your game plan on how to

get there.

Creating Reliable and Repeatable Workflows: Shifting your workflows to a continuous integration pipeline is not an easy task, especially for large-scale legacy projects. Changing one part of your workflow may impact several other processes across your team. Talking through these challenges with your internal experts across teams can help you devise solutions for creating reliable, repeatable

CI workflows.

Data Overload: In continuous integration QA, there's no shortage of information. However, this influx of data can be paralyzing for your team to sort through and act upon. To overcome this challenge, first focus on the test analytics surrounding platform usage and test suite efficiency in order to understand which test cases detect the most defects and which tests constantly fail. From here, your team can better gauge how to create test cases in future

development cycles.
Recommended CI Tools
There are dozens of automation offerings available across licensed and open-source solutions, each with their own unique features and capabilities. Because making the right choice is crucial to following CI best practices and to your overall build success, we recommend reviewing these continuous integration tools during your selection process.
Jenkins: As the oldest and most popular testing tool for CI, Jenkins offers active community support and a robust library of 1400+ plugins. This open-source tool is ideal if your code is hosted in-house and if you want complete control over your CI environment through highly

customizable workflows.

GitLab CI: This open-source tool is a well-known component of the Rails project because of its cross-compatibility features. GitLab CI integrates seamlessly with the GitLab atmosphere and its services are aligned with git repository management. This solution is ideal if your code is hosted on GitLab and you need an integrated

Docker registry.

CircleCI: For powerful caching capabilities and highly customizable workflows, CircleCI delivers on continuous integration features. This commercial solution is easy to set up and run and is able to send your results directly to Slack. CircleCI is ideal if your code is hosted on GitHub or Bitbucket and if you need inbuilt support

for parallelism.

Wercker: By combining device configurations all together on a single platform, Wercker can handle complex bottlenecks. This open-source tool can execute indefinite builds and runs on its Docker-based platform. Wercker is known for its speed, accuracy and the ability to trigger pipelines whenever new code

is committed.

Bamboo: This open-source tool is a CI build server that performs automatic builds, tests and releases all from one central hub. Bamboo can identify new branches into these technologies and automatically apply customization of both triggers and variables. This tool is ideal for those who need support across a variety of languages and technologies as well as integration with JIRA software

and Bitbucket.
How to Proactively Manage CI Testing
When you take full advantage of continuous integration, you can look forward to a quicker end-to-end workflow, more cohesive collaboration, quicker bug detection and easier fixes. Since you are iterating and integrating code frequently, you have a great deal of data to analyze and leverage for future changes in order to keep all team members on the same page.
So, how can you set up and manage CI for success?
Start early to develop efficient integration methods that will continue to improve

with time

Automate testing procedures for

robust iterations

Get everyone on the same page to maintain

consistent updates

Plan to set up continuous delivery to shrink the gap between development

and production
Engaging with an external QA partner immediately adds experience and knowledge to your team so that you will be ready to implement CI and CD without a hitch. The rapid iteration and evaluation cycles of continuous integration leaves little time for test design, maintenance and execution. The advantages are worth the challenge, but if not managed properly, the resulting bottleneck of test requirements can introduce delays within the release cycle.
A QA expert can relieve these burdens from your development team. More than just testers, this external team can provide guidance on selecting the right continuous integration automation tool and creating a coordinated workflow that eases the back and forth between development and testing.
Should you engage an offshore QA service, you can extend this workflow into a 24-hour operation, with engineers in distant time zones testing overnight and presenting your development team with comprehensive test reports each morning. There are also resource advantages available that leverage the U.S. and offshore environments to produce savings that can reduce your QA costs by half.
Add that cost benefit to the fact that a QA expert can quickly scale up your testing capacity during peak times while providing dedicated insight into your specific technological domain, and you have the centerpiece to your continuous integration testing conversion in place.
Next Steps for Managing
Continuous Integration
Continuous integration and testing deliver the kind of quality results that only careful planning can achieve. Your development and testing teams reach a point of coordination that permits a constant flow of innovation and evaluation. Once installed, there is no better way to protect the end user experience while executing high-level code design.
Does your team need help implementing CI workflows into your development cycle? Partner with an external QA services expert like QASource. Our team of engineers and testers have years of experience with continuous integration and specialize in implementing CI tools. Let us help your team maximize its development and product talents while keeping that UX safety net in place. Get a free quote today.