Based upon our extensive research on RPA and expertise in Automation testing, we have come up with this newsletter to explain the functionality and scope wise difference between these two verticals.
What is RPA?
RPA or Robotic Process Automation facilitates the creation of a virtual workforce which is used to automate manual and repetitive tasks. RPA has evolved from three key technologies: screen scraping, workflow automation, and artificial intelligence. These software are mainly used for automating business processes by recording workflows, implementing rules on fetched data while running these workflows, and making decisions about fetched data based on predictions rooted in historical records.
According to Forbes, RPA will be one of the top 10 digital transformation trends for 2020. Also, according to Grand View Research, the global RPA market size was valued at USD 597.5 million in 2018 and is expected to register a CAGR of 31.1% over the forecast period.
U.S. RPA Market size, by type, 2015 - 2025 (USD Million)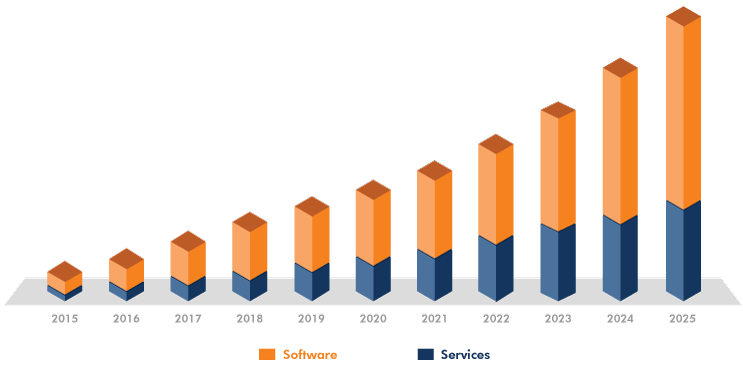 Working Architecture Of RPA And Automation Testing
Let's see the differences in architecture between RPA and automation testing tools.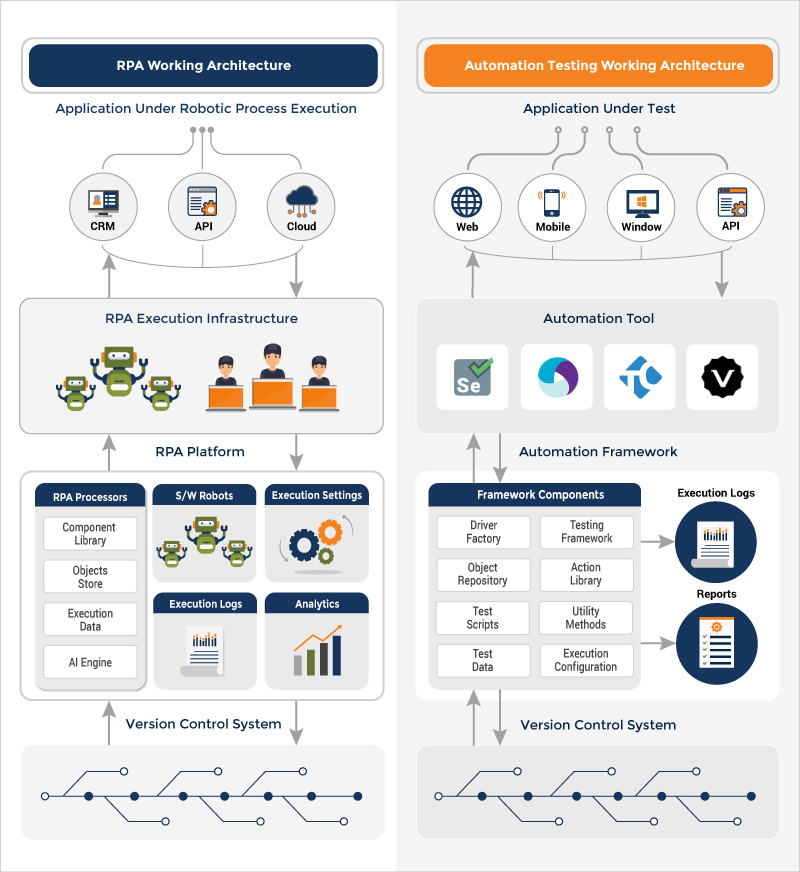 Comparison Between RPA And Automation Testing
Although test automation and RPA share many similarities like a drive screen, keyboard and mouse, here are some key differences between the two:
| Parameter | RPA | Test Automation |
| --- | --- | --- |
| Goal | Decrease human workforce | Decrease testing time |
| Automation Task | Business processes | Test cases |
| Development Skills | Wizard-driven, no development skills required | Required for developing test scripts |
| Platform Support | Supports a wide variety of platforms | Supports limited software environments, specific to the tool |
| Running Platform | Production environments | QA and staging |
| Role | Acts as a virtual workforce | Acts as a virtual assistant |
| Implementation | Product and customer services | Automate a product |
| Users | Stakeholders, management and technical teams | Technical users, QA and Dev teams |
| AI | Most tools include AI engine to process information like a human | Can execute only what is coded |
| Top Tools | UiPath, Automation Anywhere, Blue Prism, Rapise | Selenium WebDriver, Appium, UFT, TestComplete, Ranorex, Squish |
RPA tools mentioned in the table above can be used for automating test cases. Similarly the tools which allow for automation on multiple platforms and applications, like UFT, TestComplete, Ranorex, and Squish, can be used for RPA.
Have Suggestions?
We would love to hear your feedback, questions, comments and suggestions. This will help us to make us better and more useful next time.
Share your thoughts and ideas at knowledgecenter@qasource.com