With this edition of the ShieldCast expert series, we aim to educate end users about the potential security risks of using smartwatches and what it takes for security testing and securing such devices.
Smart Watch Security
Since the debut of the first digital watch in 1972, the watch industry has undergone a continuous advancement. In recent years, smart watches have appeared as the most trendy wearable gadget in the market which are being used by around 141 million users worldwide. They act like extension to smartphones and are also equally vulnerable to security breaches. In a recent incident in Europe, a model of kids' smart watches were recalled due to security concerns. That said, security issues with smart watches are legitimate concerns.
Smart Watch Security Risks
The varied functions available on smart watches make it attractive for attackers who are always on the hunt to exploit vulnerabilities of these devices and gain access to user data. Let's take a look at some of the security risks associated with smart watches: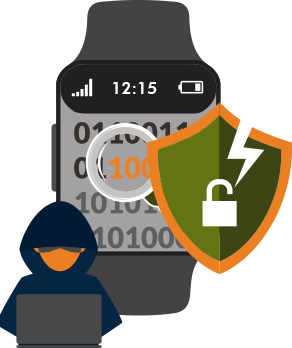 Susceptibility to unauthorized account access attacks is due to:

Weak passwords
Insecure password recovery mechanism
Inability to block an account after continuous failed attempts

Bluetooth networks used by smart watches are vulnerable to attacks such as:

Man-in-the-middle attack (MITM)
Blue-Stumbling (forced re-pairing) and many others

User's typing activity can be detected through motion sensors on smart watches

Smart watches are not known to store data in an encrypted format, so it is possible to physically acquire data after gaining root access
Skills Required For Security Testing Of Smart Watches
To perform security testing of smart watches, a tester must possess knowledge of: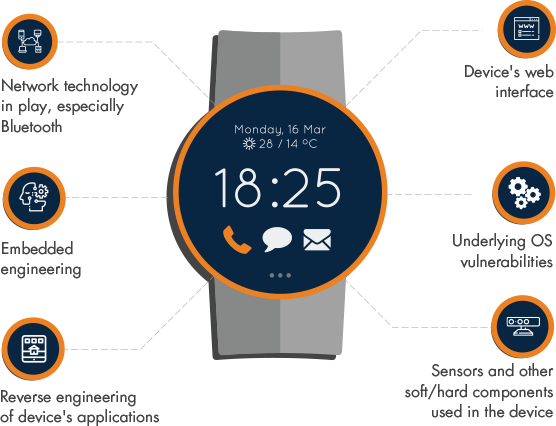 Steps To Ensure Security Of Smart Watches
Security of smart watches should not only be the concern of end users or security professionals, it should start right at the manufacturing phase and should be carried throughout the process to the end user. Let's take a look at what is required to ensure the safety of such trendy smart wearables: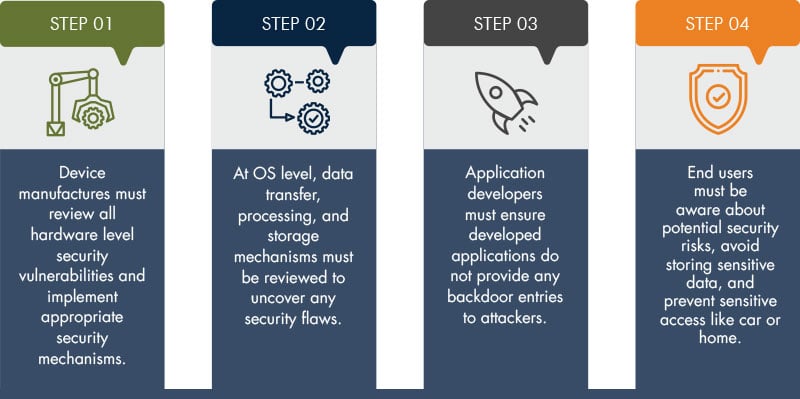 Latest Security News
Have Suggestions?
We would love to hear your feedback, questions, comments and suggestions. This will help us to make us better and more useful next time.
Share your thoughts and ideas at knowledgecenter@qasource.com