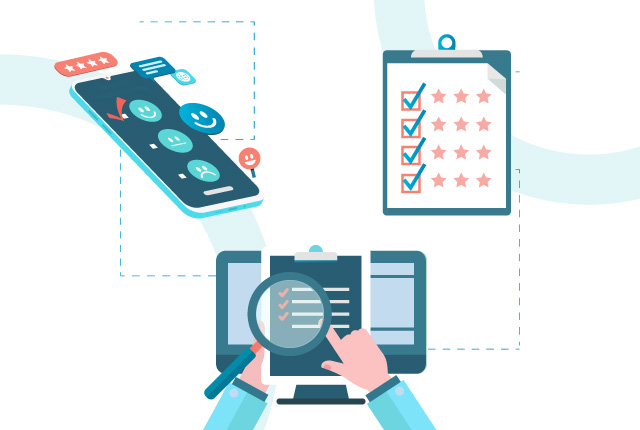 Mobile applications are now an essential component of businesses, and you are unlikely to get more than one chance to ensure the high quality of a client's online experience and establish a desired consumer trust. This is the reason you should evaluate your software for user experience.
In today's fast-paced world, consumers have higher expectations and demand higher-quality products, services, and technology. To guarantee customer satisfaction, customer experience (CX) testing and quality assurance procedures are essential before and throughout customer encounters.
QA in customer experience is essential for creating meaningful and frictionless communication. It involves ensuring that every product or service a company offers is of the highest caliber and that your brand can be relied upon to consistently produce excellence in all of your interactions. This article will provide a comprehensive overview of all you need to know about customer experience testing.
What Is Customer Experience Testing and Why Is It Important?
Customer experience testing seeks to evaluate a variety of tangible and digital products as well as services that span several online and offline points across the entire customer experience. It extends beyond evaluating websites, apps, and software for usability and user experience. In other words, it is essential because it ensures you provide all aspects of an excellent customer experience. These areas include:
Functionality: Improve the functionality of the mobile application, and software products to satisfy

customers' requirements.

Usability: This area guarantees that a product's design, functionality, and goal are in line with customer wants

and needs.

Maintainability: Ensure the software's capacity for self-upkeep. Changes, modifications, updates, and bug fixes are a few of the things that

maintenance entails.

Portability: Refers to the ease with which a product or piece of software may be moved from one environment

to another.

Security: Prevent data loss, illegal access to system functionalities, software infection by viruses, and privacy protection for data submitted into

the system.

Efficiency: Achieving excellent customer experience while requiring the least amount of work from

both parties.

Reliability: The probability that a system, product, or service will continue to meet performance requirements and ensure customer satisfaction over a

certain period.
How Is User Experience Different From Customer Experience?
Customer experience refers to the perception that consumers have towards your brand after all of their encounters with your business. User experience, on the other hand, focuses on how customers use and perceive your products and services. CX is a thorough grasp of consumer behavior, including intrinsic and latent qualities, and tangible and functional traits.
Importance of CX Testing
A well-defined customer experience test plan based on user analytics and customer data allow the QA team and the entire business to understand the customers from all angles and assures coverage of the all-user flows.
Additionally, CX testing is effective since it gathers reliable data from the key elements that will improve the customer experience, such as:
Analytics
Capturing Human Emotions
Crowdsourcing
CX testing is crucial to your company to give your consumers the best possible experience.
What Is Absolutely Essential To Test in Customer Experience Testing?
Excellent customer service means meeting the customers' demands and needs. However, exceeding their expectations in crucial areas of their interaction with your business is key. To do that, your company must test three distinct experiences to surpass client expectations.
Accessibility

Focus on accessibility both to serve your customer base and to ensure you have accessibility that can support all types of potential customers. There are four necessary principles for an accessibility analysis to be successful:

Perceivability: Customers should be able to perceive and experience your business through all of

their senses.

Understandability: Customers must be able to understand the information and user interface functions that your

company offers.

Robustness: Your business should deliver information that must be robust enough that a wide variety of customers can reliably

understand it.

Operability: Your company's user interface elements and navigation system must be simple for customers

to use.

Omnichannel Testing

Omnichannel testing involves evaluating every multichannel sales strategy that aims to give customers a smooth shopping experience, whether they are making purchases online from a desktop or mobile device, over the phone, or in a physical store. To effectively test the omnichannel, you should:

Find gaps in all of your channels
Get insights from personal experiences from each channel
Design specific experiences from each channel for all types of customers

Payments

Payment is the most crucial phase of a customer's relationship with your company. They will receive their goods or services after making payment, and the way your services and products satisfy your customers will determine how loyal they become to you. However, the customer should have a pleasant experience in making their payment.

You should test and stay away from the following frequent payment-related accessibility concerns:

Web page timeout
Multi-factor authentication
CAPTCHA
Availability of documentation
Adding payee information
Live chat availability
Documentation in an accessible format
These will have an impact on customers' payment experiences and how they see your company.
Things To Do for Perfect Customer Experience
For your business to provide the best customer experience, CX testing is undoubtedly the best place to start. Here are some recommendations for achieving the ideal customer experience based on customer experience testing:-
Test Functional Scenarios With Different Network Scenarios

Consider yourself in the end user's position and determine the functional real-world scenarios with various network configurations. For example, transmit traffic through several networks and test the business application with various connection types, qualities, and locations. This will provide you the assurance that the business application functions consistently and dependably across a variety of infrastructures.

Usability Testing

To satisfy your customers with exceptional performance and usability of what you offer, test the usability of your company's website, app, or other digital products.

Monitor App Usage Patterns

Spend some time observing app usage trends to improve user experience; concentrate on the following:

Most frequently used controls
Most commonly used screens
Common areas where applications crash
Response time

Navigational Testing

Navigation tests examine how people navigate your website or application when given a specified purpose or objective. The outcomes assist you in fine-tuning important user processes and enhancing the information architecture of your business.

Web Analytics Testing

Test web analytics to enhance the online customer's experience. Test the performance of the entire website, as well as various segments, locations, traffic routes, keywords, and other website factors. This enables businesses to optimize their website for optimum revenue.

Resilience Testing

Resilience testing is a testing process done to assess how an application will operate under stress or in chaotic situations.

Accessibility Testing

Accessibility testing is the process of ensuring that your websites, mobile applications, and other products and services that the widest range of customers can use, including those with disabilities.

Localization/Internalization Testing

Localization/internalization testing can assist a company in comprehending and appreciating appropriate approaches to engage with local cultures and satisfy the demands of its particular customers.

Conduct Ongoing Performance Sessions

Conduct ongoing performance sessions to test the system on an ongoing basis from the perspective of response times to ensure that the response times and customer experience you anticipated can be achieved and maintained.

Use Beta Testing

In beta tests, selected consumers are led through a business tour over several weeks to gauge customer satisfaction with your product. At this point, your product should be finished or almost finished, and QA should be concentrating on evaluating the full user experience.

Run Backend Database Testing

Run backend database testing to ensure your database can manage the additional data loads, define thresholds to prevent ineffective or badly performing inquiries, and monitor real user response times to guarantee a consistent user experience.

Run Cross-device/Cross-browser Testing

Cross-browser and cross-device testing entail contrasting and evaluating how your website performs in various browsers and devices. Customers have preferred browsers and devices, so it helps to ensure that your website and apps function properly on all of them.

Omnichannel Customer Journey Testing

Test all of your channels' sales approaches to provide customers with a seamless shopping experience, whether they are shopping online from different devices, over the phone, or in a physical store.

End-to-End Functional Testing

End-to-end functional testing is a technique intended to evaluate the operation and performance of an app under product-like situations and data to emulate live settings. The objective is to completely recreate a real user scenario in the simulation.

Crowd Testing

This approach can be useful in enhancing the customer experience testing process, as it allows businesses to gather insights from a wide range of users, with varying backgrounds, devices, and environments. By leveraging the power of the crowd, you can identify potential issues and improve the overall user experience, ensuring that your product is accessible and usable for as many customers as possible.

API Testing

By testing APIs, you can verify that they are returning the correct data, responding to requests in a timely manner, and functioning as intended. It has a direct impact on the customer experience, as poor API performance or incorrect data can lead to errors, slow performance, and poor user experience. API testing can also help ensure the security of sensitive data and help prevent data breaches. By including API testing in your CX testing process, you can proactively identify and resolve issues, which can result in a smoother, more seamless user experience for your customers.
How QASource Helps Your Business Become Quality-Centric?
QASource is a top-ranked software testing company that can help your business adjust and adapt to the ever-changing market demand — keeping your business relevant and on top of the competition. Here are key features that QASource can provide to ensure your business becomes quality-centric:-
Continuous Testing

We perform continuous testing to make sure we are accurately evaluating company exposure to risk. Once we address all potential risks, it will be simpler for you to create an action plan to enhance your business, offerings, and customer service, providing your customers with the best experience.

Testing Factors That Are at Risk of Failing

We provide risk-based testing, which prioritizes evaluating the parts, pieces, or components that are most likely to fail. By doing this, we completely eradicate failure and guarantee that everything your company releases is a success and provides the highest level of customer satisfaction.

When To Hire a Software Testing Company

Finding a reliable and trusted software testing partner who can direct the strategy and execution for software testing is the most practical method to put the highest quality practices into action. As a leading software testing company, QASource offers full software testing services for businesses of all sizes. We have top-quality software engineers that are experts in all types of software testing, making sure to meet all of your business needs.
How To Incorporate Customer Experience Testing Into Your QA Efforts?
In this highly competitive industry, customer satisfaction is the QA team's top priority, regardless of how far they may be from the customer. Your main goal should be to include customer experience testing in your QA efforts to provide the best possible customer experience.
Understand Your Customer

Understanding your customers means knowing who they are and what they want and what they need. When you understand your customer, it will be easier to personalize your QA efforts to satisfy customer expectations and even exceed them to deliver the best experience.

Involve Team Members Who Interact With Customers in Test Planning

The ultimate objective of all teams, including QA, is customer satisfaction. Other roles can participate in QA; therefore, QA should also be a part of decision-making and planning. Allow the customer service team to work with the QA team in test planning to ensure all teams are aligned.

Test Customer Journeys Across All Channels

Test customer journeys via all channels to make sure your QA team won't overlook anything during customer experience testing — pay close attention to cross-channel browsing and interactions, customization data, custom settings, complete and incomplete transactions, and more.

Gather and Analyze Customer Feedback

QA needs complete access to customer feedback. Look at any concerns and perform an in-depth root analysis. Give your customer support representative and QA team the freedom to collaborate on gathering input and customer feedback. Use all resources to get customer input and give the QA team complete access to it.
The Bottom Line
Customer experience testing is crucial to give your customers the best experience with your business. The goal is to understand your consumers and go above and beyond to satisfy their expectations and demands. Your QA team should have full access to all customer information, guaranteeing that customer testing will result in successful customer satisfaction.
Allow QASource to assist your QA team and customer experience testing, achieving better outcomes and delivering quicker releases and higher-quality products from our skilled QA software testing services. Connect with QASource today and learn more about how we can help your business provide the best customer experience to your customer base.