Mobile device passwords or patterns were considered the best methods for securing the app data. It is quite tedious for a user to remember multiple passwords for each app. Click to read more about biometric mobile app testing.
The advancements in mobile biometrics technology have come so far in the past few years that users are now able to access their devices quickly and seamlessly without the hassle of remembering a numeric or pattern password.
"Biometrics is one of the keys to providing more transparent, secure and manageable security on a
mass scale."
- Bill Gates
In our most recent experts series, we discuss the different types of biometrics, their benefits, industries using biometrics, testing strategies, effects of ageing on biometric, and its current limitations.
Biometric Technology Market Trend
Global biometric technologies projected market revenue from 2018 to 2027
(In Billion U.S. Dollars)
Source: Statista
The graph depicts the market revenue for the global biometric technologies. The market is expected to grow rapidly in the coming years, reaching a size of $55.42 billion by 2027.
Types of Biometrics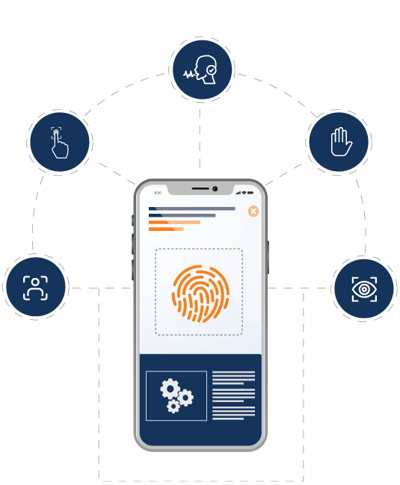 Face Recognition - Technology used to match a human face from the digital image or video frame to authenticate and access a device

Fingerprint Scanner - Scans the friction ridges pattern (fingerprint) of human fingers and matches with the fingerprint data in the database to access the device or app

Voice Recognition - Uses a person's voice as a unique identifying biological characteristic for authentication

Hand Geometry - Identifies users from the shape of their hands. It measures all dimensions of hands like height, width, angle, and deviation and compares it with the database

Iris Recognition - Identifies users based on unique patterns within the ring-shaped region surrounding the pupil of the eye
Benefits of Biometric in Mobile Devices
High Security - Biometrics passcodes are unique for every individual and only allow the authenticated person to access the secured devices and apps
Quick - Biometric passcodes like fingerprints, face, or iris recognition are much faster and quicker for accessing the mobile or apps than entering the password manually
Accurate Identification and Authentication - Password and patterns are standard modes of security in mobiles, but these can be easily hacked. Biometric passcodes cannot be forged, resulting in accurate user authentication
Enhanced User Experience - High-quality biometric processing and fingerprint imaging offers a seamless user experience. Once calibrated, the finger placed at any angle is authenticated by

the device

No Need to Remember Passwords - People tend to forget their device and app passwords. With the use of biometric technology, users need not remember any passwords, leading to no chances of

losing data
Industries Using Biometrics in Mobile Apps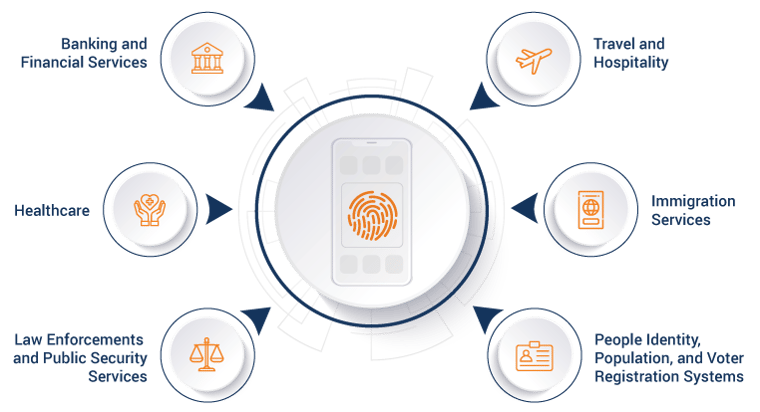 Key Biometrics Testing Strategies
Let's say the fingerprint may be required in different sections of the app to check balance, make payment, etc. For making a payment, the user should be prompted to enter their fingerprint and access the 'Make Payment' screen, instead of any other screen
2
Authentication and Security Testing
Verify that the authenticated person and only the authenticated person with valid biometric traits can access the applications
Validate the user-friendliness of biometrics and ensure that the setup instructions are easy to understand
Test the mobile app using biometric with real-world interruptions like phone calls, messages, and notifications
Verify the compatibility of biometric-driven mobile apps with a variety of devices, platforms, and operating systems
Limitations of Biometrics in Mobile Apps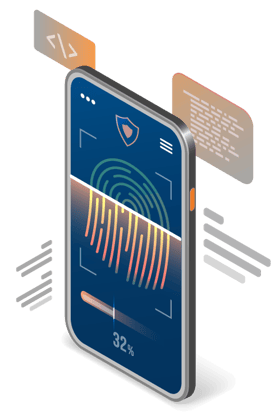 Cannot Update Physical Traits: In case physical traits are stolen, they cannot be changed. Whereas, passwords or patterns can be changed

if stolen.

High Costs: The cost of biometric devices is relatively higher than other traditional

security devices.

Complex Technology: Biometrics for mobile devices are a very technical and complex system that require qualified and

experienced engineers.

Not Suitable for Physically Disabled: Unfortunately, people with some disability such as damaged hands or eyes cannot

use biometrics.

False Positives and Inaccuracy: False rejects and false accepts can still occur which prevents select users from accessing

the systems.
Conclusion
Despite the above limitations, biometrics is one of the most trending pieces of technology these days. The advent of this technology has changed the way we login to devices and apps and has become an essential part of our daily lives.
Have Suggestions?
We would love to hear your feedback, questions, comments and suggestions. This will help us to make us better and more useful next time.
Share your thoughts and ideas at knowledgecenter@qasource.com