A complete walkthrough on no-code/low-code automation provides an overview of the benefits of automation and how to get started. This covers market trends, advantages, challenges, and how to address concerns for your project.
In the late 90s and early 2000s, the very initial low-code platforms like OutSystems, and Appian required extensive customization and months of development. Low-code (a term given by Forrester) tools make interaction with code easy for both developers and non-developers. Enterprise users with little programming experience who want to speed up automation projects prefer these types of tools also, organizations without coding capabilities or with limited resources to hire custom application developers can utilize these tools.
What is No-code/Low-code Automation?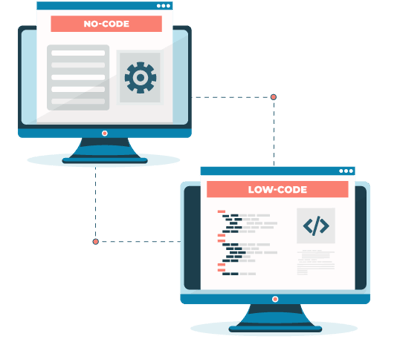 No-code/Low-code automation refers to the use of platforms like Salesforce, Pega, Kissflow, and Zoho, and tools that allow users to automate processes and build applications with little or no coding required. Low-code platforms typically provide a visual drag-and-drop interface that enables users to assemble workflows and logic, while no-code platforms offer even greater abstraction, enabling users to create complex applications and automation with little or no code. The goal of no-code/low-code automation is to speed up development time and make it easier for organizations to rapidly deliver software solutions and automate business processes.
Market Trends
According to a report by Grand View Research, Inc. titled "No-Code/Low-Code Automation" the market is expected to reach $25.8 billion by 2027, growing at a CAGR of 24.2% from 2020 to 2027. This growth is attributed to the increasing demand for digital transformation, the need for faster application development, and the growing popularity of cloud-based solutions. Additionally, the increasing adoption of mobile devices and the emergence of artificial intelligence (AI) and machine learning (ML) technologies are expected to drive market growth.
Average Forecasted Growth of Global Low-Code/No-Code
Market (US$ billion)
Source: https://userguiding.com/blog/no-code-low-code-statistics
Challenges With Legacy Scripting
Legacy scripts are computer programs or software that are outdated but still in use. These scripts were created for systems or applications that are no longer in use or have been replaced by newer, more advanced technologies. Below are the following challenges with legacy scripting: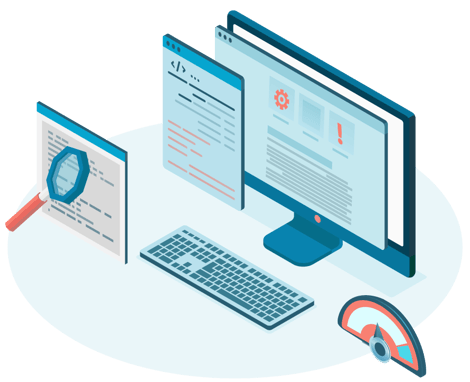 Legacy scripts/code become outdated/incompatible, have slower performance, and are prone to errors as

technology advances.

Legacy scripts & code can have difficulty in maintenance, compatibility, scalability, and debugging. They are also vulnerable to

malicious attacks.

Finally, legacy scripting and coded automation can be difficult to integrate with

other systems.
The Need For No-code/Low-code in Business
The no-code/low-code approach is a new way of developing software and thinking about software development. It allows businesses to quickly and easily develop applications without the need for coding. This approach significantly reduces the time and cost associated with developing applications, allowing them to focus on other areas of their business.
Reasons For Using Low-Code Platforms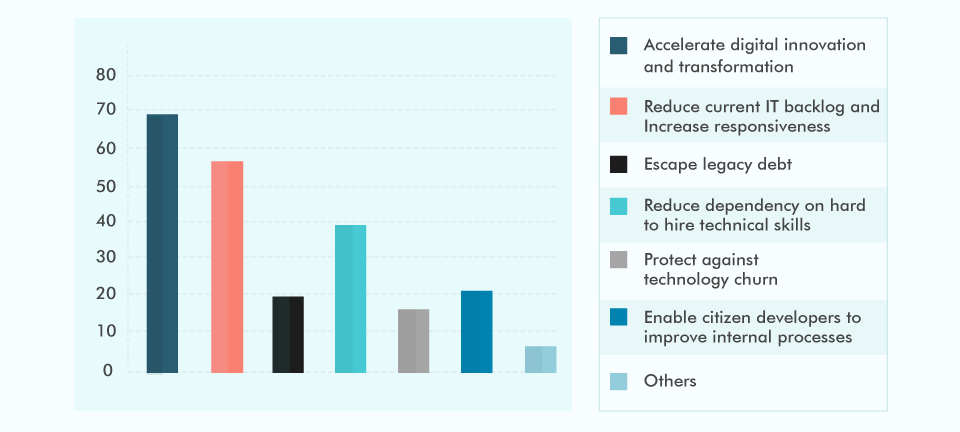 Source: https://stratoflow.com/is-low-code-no-code-the-future/
Working of No-code/Low-code Approach
No-code/low-code approach utilizes graphical user interfaces (GUIs) and drag-and-drop tools to create applications quickly and easily, without having to write code.
No-code/Low-code development is based on the concept of "drag and drop". This means that developers can drag and drop components from a library of pre-built components to create an application. These components can be used to create a user interface, connect to databases, and integrate with other systems. This development also makes use of templates and wizards.
No-code/Low-code development uses visual programming languages, like Visual Basic and Visual C#, to quickly build apps without writing code with minimal effort and cost.
Benefits of Using No-code/Low-code in Businesses
No-code/Low-code approach aims to reduce delays in the traditional software development process and offers the following benefits:
Increased Efficiency: It is an efficient way to quickly develop applications with minimal effort and time, allowing developers to create prototypes and test out ideas before investing in a full-fledged

development project.

Cost-Effective: This approach is cost-effective, as it requires fewer resources and less time to

develop applications.

Faster Deployment: It allows faster deployment of applications, as the no-code app development process is much simpler

and faster.

Tailored Applications: This approach also benefits businesses, as it allows them to quickly develop applications that are tailored to their

specific needs.
Financial Restraint
Business Presumption
Documentation Process
Assets and Time Restraint
IT/Business Association
Legacy Structure Support
Complicated Processes
Security Assesment
Benefits of Using No-Code/Low-code in Businesses
Concerns About No-code/Low-code
Limited Functionality

No-code/Low-code automation tools are limited in their functionality and may not be able to meet the needs of more complex projects.

Security Risks

Tools can introduce security risks if not properly configured.

Lack of Flexibility

The tools are not as flexible as custom-coded solutions, and may not be able to accommodate changes in the future.

Lack of Expertise

No-code/Low-code automation tools require a certain level of expertise to use, and may not be suitable for those without the necessary skills.
Example of No-code/Low-code Automation
Consider an example of intelligent document processing that can be solved through a low-code platform: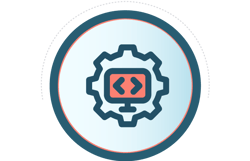 The use case involves automating the manual processing of invoices, such as extracting data from PDF files attached to emails and entering it into an excel sheet for reporting.

It can be achieved through the PowerApps suite as illustrated in the diagram below:

Files containing the data are received using common mail from the email client, integrated with

SharePoint libraries

Power Automate flows can be used to automate data extraction and insertion into the list and

excel sheets

Alerting system for success and

failure scenarios

Power BI dashboard with real-time data for reporting to executives on invoice amounts and

other details

AI solutions can be integrated into Power Automate flows to be used in the processing

of data

SharePoint online site created with information architecture designed as per AI solving for increased accessibility of documents

when required
The entire workflow can be designed using the graphical user interface without needing to write any code
Our Services to Clients With No-code/Low-code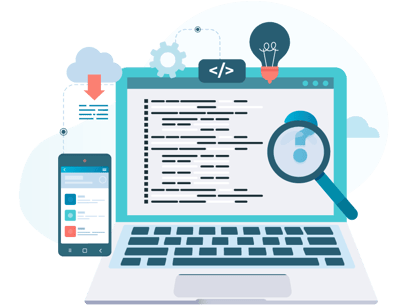 Creating End User Engagement Applications (Portal/Mobile): We created a mobile app to optimize and facilitate maintenance activities for a global manufacturing company on a

global scale.

Migrating a Legacy System: We completed the migration of all internal SharePoint applications for a start-up

retail company.

Building Integration Applications: We worked on developing an application to integrate different products to create a warehouse management system for a

global company.
Conclusion
No-code/Low-code automation is beneficial for businesses of all sizes, enabling them to quickly and easily create applications and automate processes without the need for extensive coding knowledge, saving time, money, and resources while increasing efficiency and productivity - an invaluable asset for businesses looking to streamline their operations and improve their bottom line. To know more about low-code automation, contact QASource now.
Have Suggestions?
We would love to hear your feedback, questions, comments and suggestions. This will help us to make us better and more useful next time.
Share your thoughts and ideas at knowledgecenter@qasource.com