Learn the key elements in designing visually appealing apps and major testing areas. Also, understand how QASource's expert testing solutions can help businesses elevate their app's aesthetics and functionality.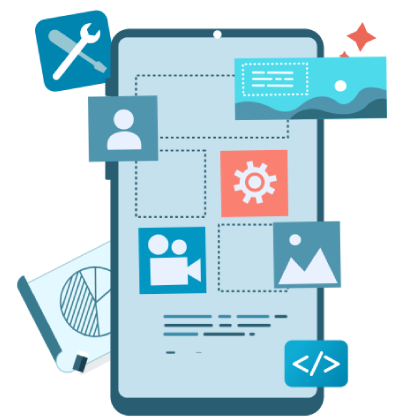 In today's fast-paced world, mobile applications have become an indispensable part of our daily lives. From ordering meals to booking transportation, we rely on mobile apps to simplify our routines. However, with countless options available in app stores, users have become increasingly selective in their choices. As a result, app developers must ensure that their product stands out not only in terms of functionality but also visual appeal. The aesthetics of mobile apps play a vital role in creating a lasting impression in the minds of customers.
A recent survey by The Manifest revealed that a staggering 75% of mobile app users will uninstall an app if it's difficult to use. At QASource, we understand the importance of aesthetics in building a brand's identity and are here to help you create a visually impressive app that captivates your users' attention and keeps them coming back for more.
The Key Elements in Application Designing
In order to create an application that is visually appealing, it is crucial to take into account a variety of essential components during the design process. Here are some key factors to keep in mind:
Functionality
A balance between aesthetics and functionality is crucial for mobile app design. Prioritizing functionality in the early stages of design can lead to a better user experience. The placement of critical usage functions to quickly catch the user's attention is vital.
Animations
Animation enhances the aesthetics and engagement of a mobile app, but overusing them can cause the app to lag, leading to poor performance.
Target Audience
Designing an app for the target audience is crucial for mobile app design. The design should be tailored to suit the intended audience, whether children, professionals, or others.
Designing for Different Screen Sizes
Adapting the app's design to suit different screens is essential for a consistent and visually appealing user experience. Mobile devices come in various sizes, and creating apps that look great on all screens is necessary for business success.
Icons
Picking intuitive icons matching their functions is an important step towards user friendliness.
Role of QASource in Mobile Aesthetics
At QASource, we ensure that our apps meet both design standards and user expectations. Our QA team can help improve mobile aesthetics through a variety of tasks, including:
Reviewing app design documents and mockups, and providing feedback on aesthetic aspects such as color scheme, typography, layout, icons,

and animations.

Testing the app on various devices and screen sizes to check for aesthetic issues like alignment, spacing, contrast, readability,

and responsiveness.

Documenting any aesthetic defects or bugs, and suggesting solutions

or improvements.

Collaborating with developers and designers to resolve aesthetic conflicts and ensure the app follows best practices

and guidelines.

Conducting user testing and surveys to evaluate user satisfaction and feedback on app aesthetics, and identifying areas

of improvement.
Major Testing Areas
When it comes to ensuring the quality of a mobile app or website, there are various areas of testing that need to be covered. Major testing areas include:
The Importance of User Research

This helps businesses understand what people want from the app or website. User feedback on layout and aesthetics can be gathered through interviews, surveys, or usability testing.

Testing Aesthetics With Prototypes

Prototyping is a way to test mobile aesthetics before finalizing the design. It allows designers to test different design components and gather user feedback early on.

Testing for Different Screen Sizes

Evaluating how the app or website looks on various screen sizes is crucial to ensure consistency across different platforms. Testing on a variety of devices can help identify compatibility issues.

Conducting A/B Testing

A/B testing is a method of comparing two different versions of a website or mobile app. It can be used to compare the effectiveness of various design elements and optimize user engagement.
Conclusion
At QASource, we understand the importance of a visually stunning and functional mobile app for your business. Our expert testing solutions guarantee that your app's aesthetics and functionality meet the highest industry standards, resulting in a seamless user experience. With our help, you can design an app that establishes your brand identity, attracts loyal customers, and drives business growth. Contact us today to discover how we can elevate your app's performance and create a competitive advantage in the market.
Have Suggestions?
We would love to hear your feedback, questions, comments and suggestions. This will help us to make us better and more useful next time.
Share your thoughts and ideas at knowledgecenter@qasource.com