Device fragmentation is a key factor in designing the scope of device matrix for QA plan. Mobile app engineering teams keep a continuous watch on the market trends for this purpose. QASource's Mobile QA Group analyzed market statistics from various sources: Statista, IDC, comScore, Gartner and identified suggestions in this quarter's Mobicast newsletter. Hope you find these suggestions helpful in deciding what can be an ideal device matrix for your QA plan. We welcome your inputs to these knowledge updates and would be happy to take this as a continuous discussion to help our software engineering community.
Mobicast - Keep it Fast, Simple and Useable
Smartphone Operating Systems, Global vs US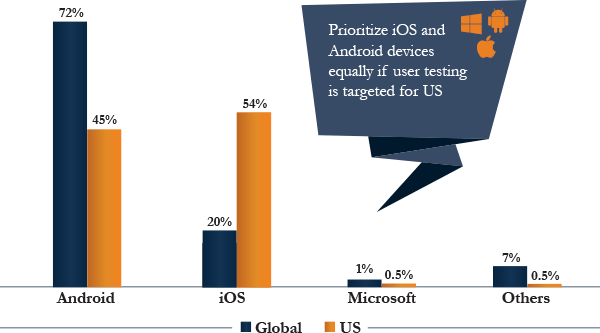 ---
Android OS versions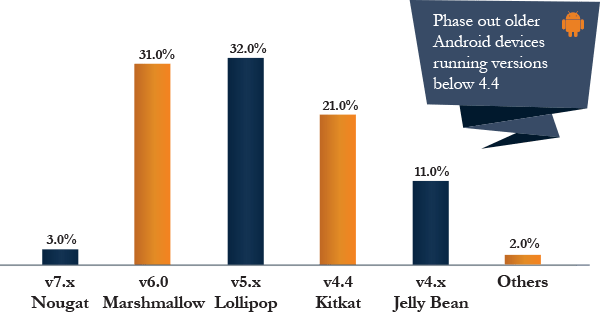 ---
iOS versions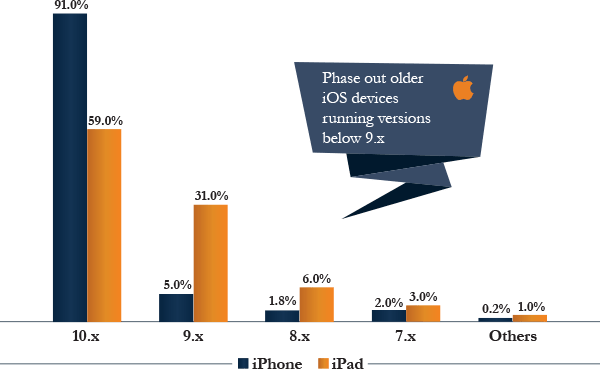 ---
Smartphone Vendors, Global vs US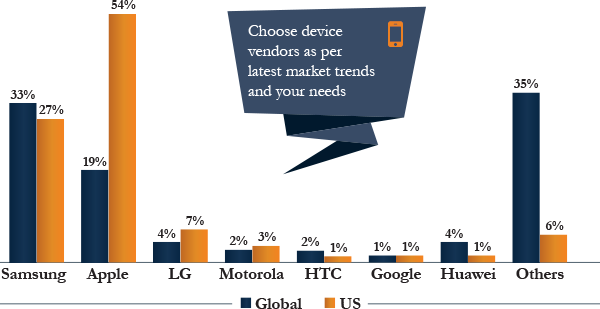 News Flash
Open-source Automation Tools release updates are:
Mobile OS release updates are:
Mobile OS SDK release updates are:
Apple released a newer Xcode version 8.3.1 (build 8E1000a)
Download link | Release notes

* Xcode version 8.3.1 download link is accessible using an Apple Developer account only

Android SDK's latest released dependency versions are:

| | |
| --- | --- |
| - SDK Tools 26.0.1 | - SDK Build-Tools 25.0.2 |
| - SDK Platform-Tools 25.0.4 | - SDK Platform 25.3 |

Download link | Release notes
What news is valuable to your peers? What tips have you learned recently? Add your mobile QA comments below.

Suggestions?
We would love to hear your feedback, questions, comments and suggestions. This will help us improve the quality of our content and improve each Mobicast!
Share your thoughts and ideas at knowledgecenter@qasource.com
Disclaimer
The logos and market statistics used in this post are owned by the individual companies of each logo or trademark and statistics. The logo and statistics are not authorized by, sponsored by, or associated with the trademark owner, but QASource is using the logos and statistics only for reviewing purposes. The endorsement of the used logos and statistics by QASource is neither intended nor implied.