Product companies always deal with unfamiliar situations. Since companies are running their operations remotely, opportunistic threat actors have increased their attacks which has increased the importance of cybersecurity.
Cybersecurity During Pandemic
During the COVID-19 pandemic, it's important that pre-emptive steps are taken to ensure the security of your business operations. Cyber attackers are more active than ever and are exploiting human nature and system vulnerabilities.
While working from home, employees and systems may be exposed to lose WiFi networks and unsecured devices. Security professionals are facing a unique set of challenges during this time and have already begun to see the consequences with coronavirus-themed threats.
Threats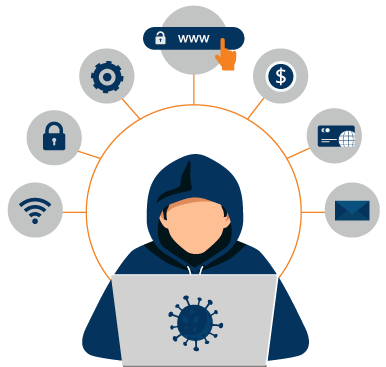 Browser-based attacks via
malicious plugins
Remote desktop tools offer a new
surface of attack
60% of data breaches are caused because the victim had not yet patched. Only the systems in VPN can
be patched
Intruders are taking advantage of Distributed Denial of Service (DDoS) when engineers are
working remotely
Phishing scams by emails and attachments with the subject coronavirus
or COVID-19
Engineers are using personal devices to access official documents that adds to the vulnerabilities that may be detected in secured
office premises
Video conferencing tools, healthcare, and education domains have become the main targets for
cyber attacks
Cyberattacks During
COVID-19
Around 450 WHO emails and passwords were leaked along with thousand others working on the Coronavirus response.
A COVID-19 vaccine test centre in London and a hospital in Paris were impacted by cyber attackers.
A U.S. based drugmaker, whose antiviral medication has shown promising results for treating coronavirus was targeted by hackers from Iran.
The users of an e-signature application received a phishing email which appears as an automated message from the app with a link to a COVID-related document.
Browser extensions which scan available time slots and make online payments were found to perform malicious activity.
A Uzbek-language android app was reported to lock phones and demand ransom payment.
A leading IT services provider was hit by Maze ransomware attack which caused service disruptions.
A leading communications technology provider had to disable some features due to security flaws and vulnerabilities.
Best Practices
1
Follow Organization's Security Guidelines
Only keep official data on work computers, do not click on any unknown link from unknown senders
A VPN ensures your data will be encrypted regardless of the network settings.
Cover security flaws to maintain the confidentiality and the integrity of you data.
Add an extra security checkpoint such as confirming a login via password via Okta authentication, Google authenticator, Yubikey, etc.
5
Up-to-date Antivirus Support
This will help identify threats from suspicious attachments or malicious websites
This will prevent unauthorized access to data in case a devise is lost.
You can erase application data if the device goes missing.
Be aware of the threats from phishing attacks, malware, and viruses associated with COVID-19
Trends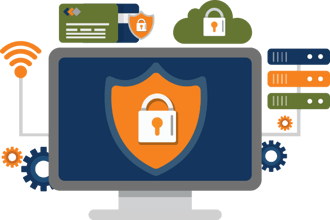 According to a "Markets & Markets" report, the cybersecurity market will grow from $183.2 Billion in 2019 to $230 Billion by 2021 at a CAGR of 12%, amidst COVID-19.

FortiGuard Labs has reported 600 new phishing campaigns daily – a 131% increase in March, 2020 as compared to last year.
COVID-19 Related Threats in Q1, 2020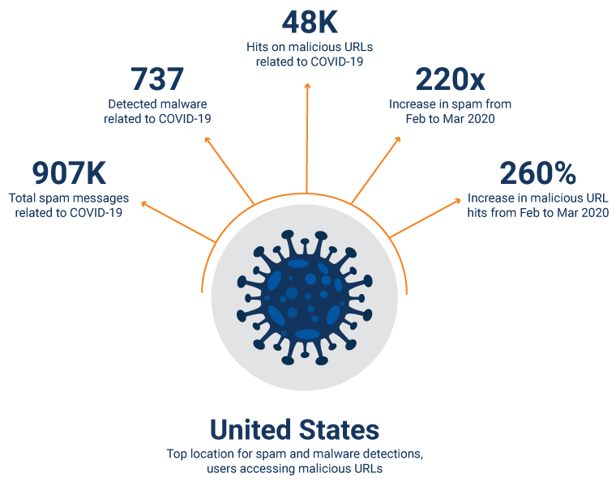 Have Suggestions?
We would love to hear your feedback, questions, comments and suggestions. This will help us to make us better and more useful next time.
Share your thoughts and ideas at knowledgecenter@qasource.com