Beacons are Bluetooth devices that transmit signals to nearby devices like smartphones and tablets. Know how QASource can help you in testing beacon-based applications so that the product achieves more accuracy and high security.
What are Beacons?
Beacons are Bluetooth devices that transmit signals to nearby devices like smartphones and tablets. Beacons broadcast radio signals which are a combination of letters and numbers. Users can configure the time and signal strength between each signal in order to achieve the desired coverage. Beacons trigger and deliver proximity campaigns to a person's phone based on their location.
Scope of Beacon
Source: Fortune Business Insights
How Do Beacons Work?
Beacon technology depends on Bluetooth Low Energy (BLE), which is a power-efficient Bluetooth technology that sends out messages at regular intervals. Beacon devices contain a CPU, radio, and batteries, and work by repeatedly broadcasting an identifier.
This identifier is picked up by the user's mobile device. The identifier is a unique ID number that the user's smartphone recognizes as unique to the beacon. Once connected, the beacon will execute whatever function it has been programmed to perform.
Beacon based system needs the following: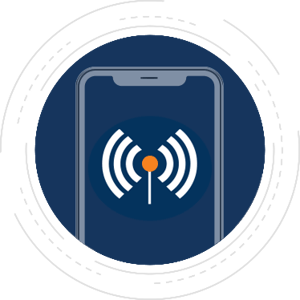 A beacon device
Mobile application
User's permission to get beacon notifications
Benefits of Beacons
Elevate Marketing

The major use of beacon is promoting offers through notifications to passing-by customers so that they may visit the desired store.

Low Cost

Beacons are easy to implement and use and are available at a great price/value factor as compared to other technologies.

Reliability and Scalability

Beacons are considered dependable devices since they use Bluetooth, therefore making them free of infrastructural limitations like signal blockage due to walls or basements.

Easy Implementation

Usually, beacon technology is available with a software development kit (SDK) and back-end management tools, which makes it easy to integrate the beacon solutions with existing applications.
Cons of Beacons
User's consent is required and they may opt-out
Mostly beacon-based solutions require the user's consent. During content overload, people disable the Bluetooth on their smartphones which can be challenging when using beacons.
Creating a beacon solution everywhere is not easy
Beacon technology is straightforward for the retail, marketing, and hotel industries. However, there could be a need to hire expert software engineers when using beacon technology in other industries.
Beacons vs App Notifications
While beacons and app notifications both have their place in the market, the comparison between the two will help users decide which one is better. The following table depicts the differences between beacons and app notifications: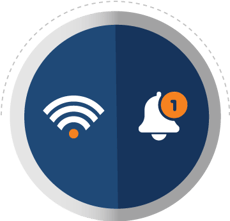 Beacons

Beacons send web push notifications - no need to install any application.
Beacons can be used to send customized notifications based on the user's location.
It is mandatory to enable Bluetooth to receive beacon notifications.
Beacon notifications redirect users to a particular site and provide any information needed, making it a great way of capturing leads.
App Notifications

App notifications open in applications and it is a must to install the app.
Notifications sent for apps are generic and irrespective of the user's location.
To receive app notification, the application should be installed and push notifications should be enabled.
App notifications redirect to the installed application and encourage users to complete the targeted offer.
Testing Scenarios for Beacon Apps
The following are a few basic scenarios executed while testing beacon apps: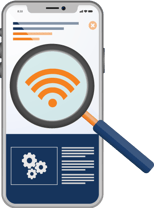 Verifying app's functionality within the range and out of range.
Verify the app's behavior when Bluetooth is turned off.
Verifying notifications, alert type, text, and formatting.
Testing notification in various scenarios – user is in different applications, notifications are off, receiving notifications while the user is on call, etc.
Testing Beacon Apps: Challenges and Solutions
Testing of an application based on beacons is not the same as testing regular applications. There are various challenges faced while testing this application, as mentioned below:
Aspect
Challenges
Solutions

Range of Beacons

Sometimes, the devices are not detected even when the device is in the beacon's range

.

uBeacon Mesh has been introduced that utilizes Bluetooth 4.1 capabilities to get location-broadcasting beacons into a two-way network. uBeacons receive some data from user's smartphones and if one of uBeacons is connected to the Internet, the entire network is capable of communicating with the cloud and other beacons

.

Internet Connectivity

If the Internet is disconnected the application gets disconnected from beacons.

High-speed internet connections are preferred, which covers the mobile devices in the location.

Multiple Geo-Location Verification

If the whole team is in geolocation, then stakeholders have to install the app on their mobile devices and use the same from other geolocation.

To verify such scenarios, Android SDK can be used to send mock GPS information to real devices.

Battery Drainage

When the application runs on the devices, the battery drainage varies between 14 to 19 percent.

Beacon apps should be kept in the background, and the beacon ranging time should be increased.
Conclusion
According to Global Market Insights, the beacon technology market is projected to surpass $25 billion in 2025. QASource engineers have expertise in testing beacon-based applications and can help you ensure that your beacon-based applications run efficiently.
Have Suggestions?
We would love to hear your feedback, questions, comments and suggestions. This will help us to make us better and more useful next time.
Share your thoughts and ideas at knowledgecenter@qasource.com