The introduction of touchscreen-enabled handheld devices ushered in a new revolution in the mobile market, and then came to the concept of the foldable smartphone. Check how QASource can help in foldable mobile app testing.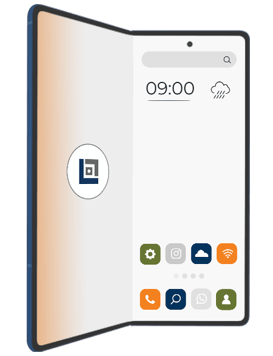 The smartphone industry has witnessed unprecedented evolutions in the last decade in terms of software and hardware capabilities. Enhancing user experience has been one of the driving factors in this digital transformation. Initially, the introduction of touchscreen-enabled handheld devices ushered a new revolution in the mobile market, and then came the concept of the foldable smartphone.
Unfortunately, when we use the term foldable phone, people sometimes confuse them with a flip phone. It is important to differentiate between the two. Flip phones are the ones having one half as a key screen and the other half as a keypad. While foldable devices are the ones that have either a fold in the display or a hinge that separates two portions (typically halves) of the display providing users with a better and more immersive experience.
Sales (in millions of units)

Form Factor

2021
2025*

Foldable

7.1

27.6

Smartphone

1,341.8

1,491.3

Total

1,348.9

1,518.9
Market Share

Form Factor

2021
2025*

Foldable

0.5%

1.8%

Smartphone

99.5%

98.2%

Total

100%

100%
Source: IDC, Worldwide Foldable Smartphone Forecast, 2021–2025, Feb 2022
* projected values
Although the foldable phone market is very new, it is very promising. With a projected growth rate (CAGR) of 69.9% from 2020 to 2025, we anticipate foldable phones to be the mainstream mobile device in the next three years.
A Sneak Peek Into the World of Foldable Devices
States of Foldable Devices: Foldable screens operate in three ways on foldable smartphones – folded, unfolded, and flex screen.
Folded State: It makes the phone look like any regular phone and the user can operate it with

one hand.

Unfolded State: It transforms the phone into a double-sized screen and allows companies to enrich the

user experience.

Flex State: This state provides the user an option to use the keyboard for typing in

the response.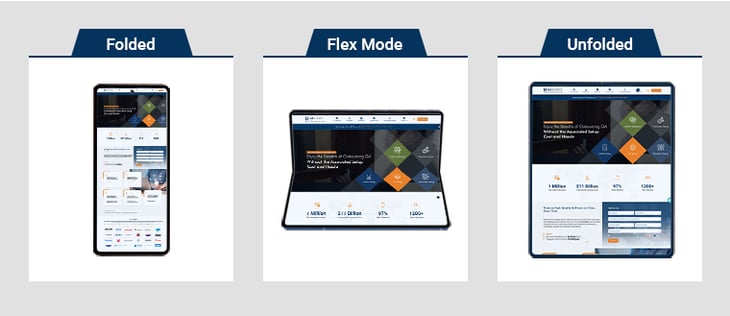 Pros & Cons of Using Foldable Devices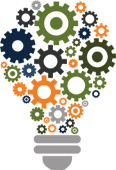 Pros

Larger displays screen
Flexible to switch

display states

It facilitates multitasking allowing you to attend to messages and glide

through notifications

Multi-window management

features are available

Superfluous space for hardware as the phone

gets bigger
Cons

Can be very expensive
It lacks durability
The crease in the fold can prove to

be problematic

Thicker bodies make it heavier compared to

single-screen devices

Folding hinges are susceptible

to breakdown
It's important to understand that an app developed or tested for a single screen is entirely different from how an app will adjust to a foldable device screen. Additionally, they will need to consider the complications that come attached to multi-window app configuration checks.
App Testing for Foldable devices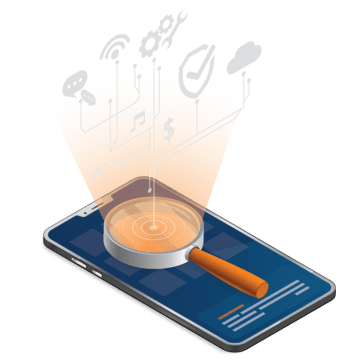 According to app monitoring firm App Annie, people are spending 4.8 hours a day (on average) on their smartphones. More importantly, over 50% of all internet traffic is derived from mobile apps. So we can infer the success of foldable devices is directly affected by the quality of mobile apps. On the other hand, the unique features and characteristics present challenges for developers of apps with dual-screen.
Any bug-prone apps commonly plague the foldable devices due to fragmentation of screen and ultimately result in bad or negative reviews. Moreover, any negative experience will be associated with the quality of mobile phones and not any specific mobile app. This is where we need efficient app testing for foldable devices. The key to testing apps on foldable devices is to test them for functionality and user experience.
Key Considerations When Testing Apps for Dual Screen
1
Multi-Window Compatibility
Since the foldable device can have 3 modes i.e. folded, flexed, and unfolded mode, the application must be compatible with multiple windows, so that when users switch apps between screen modes, it does not affect the app's user interface.
Should be able to resize instantly as per the screen size.
Adequately fast response time when resumed in multiple modes.
User interfaces and layouts across screen sizes must be consistent.
5
Support Multiple Aspect Ratios
The app must work seamlessly with multiple aspect ratios i.e. ratio of the width and height when the device is rotated in various directions.
6
Screen Quality With Pixel Ratio
The quality of the screen must not be compromised with respect to pixel ratio.
7
Optimum Memory and Battery Consumption
Test the application with regard to the optimum battery and memory consumption.
The application must be easily configurable for multiple screens.
Additional Test Scenario Recommendations
Following are some additional testing scenarios that QA engineers need to keep in mind when testing foldable devices mobile apps.
App Launching

A user's first experience with an app is the wait while it launches. So the tester must validate areas to

Ensure that the app opens without any bugs

or crashes.

Open and close the app multiple times to

check behavior.

App launching time needs to

stay short.

Working With Camera

Test the camera functionality in folded and unfolded states.

Media

Test the scaling and orientation of all the three modes for the different types of media: images, videos, etc.

UI Component Alignment

Every component like menu, text, button, and thumbnails needs to stay at the right location and maintain the correct shape/size after state changes. Also, testers need to check that the app fills the entire screen without any blank space or cut-offs in the unfolded state.

Data Entry

Testers also have to validate the functionality of the keyboard on the cover and main display to check data entry to the application. For this, they can type the text in different languages, and symbols, and ensure everything shows up fine on both the displays.

App Switch

The app should seamlessly switch between single and double screens without hanging, crashing, or showing response errors. Additionally while performing the image drawing and editing activities, the state switching should not affect the app.

Orientation Of Fold

Testers also need to keep an extra eye on the category of the fold i.e, vertical fold or horizontal fold as this will result in the final size of the screen.

Vertical fold devices have vertical hinges to let the

screen open.

Horizontal fold devices come with horizontal hinges allowing the screen

to unfold.

Memory & Battery

With bigger screens, the consumption of memory & battery would be a challenge so the testers need to keep a tap on these functionalities.
Challenges in Testing Apps for
Foldable Device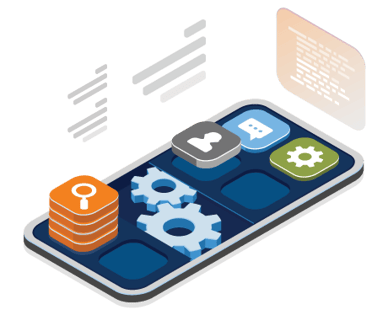 The cost of each foldable device is too high which makes it difficult to purchase

for testing.

Foldable apps have increased the scope of design, development & testing teams for all types of apps. It will require a lot of time and effort when developing and testing apps for dual-screen devices compared to normal

mobile devices.

With multiple display, states testers need to identify multiple permutations and combinations for each screen on the app that any real user

would perform.

Foldable devices will disrupt the quality of existing apps as the resolution, pixels, and screen size will change whenever users fold or extend the screen. So re-testing will be needed on the foldable devices for all

the apps.
Conclusion
Making applications for foldable devices ready for the market is not as daunting as it may sound. It is just an extension of the already existing mobile application testing process that requires constant QA for a seamless approach, offering a better user experience in foldable device apps. QASource provides customized and best-in-the-industry mobile app testing services that allow you to develop seamless and reliable mobile applications. To know more, contact QASource now.
Have Suggestions?
We would love to hear your feedback, questions, comments and suggestions. This will help us to make us better and more useful next time.
Share your thoughts and ideas at knowledgecenter@qasource.com