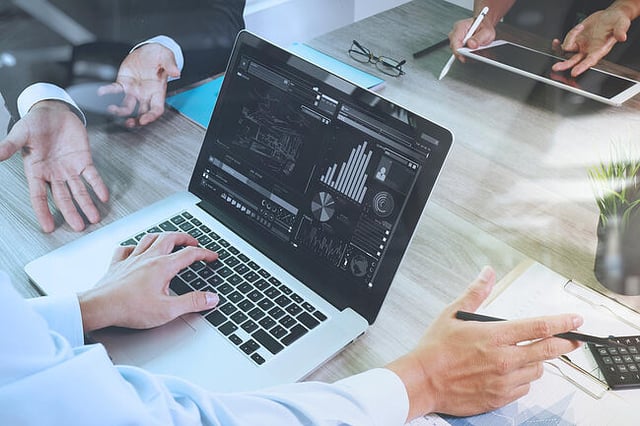 QA testing professionals are in high demand across multiple industries, such as technology QA, healthcare software testing, retail software testing and financial domain testing. In addition to understanding QA principles applicable across all industries, each domain has industry-specific standards and guidelines necessary for every QA tester to fully master before executing test cases. And in financial services, this understanding is not just a nice-to-have skill - it's crucial for the success of the business that testers support.
Becoming a QA testing expert for fintech starts with the basics in finance domain knowledge. You must first know what a finance domain is, what challenges arise during testing, the importance of testing financial domains and the primary banking and financial application testing required to sufficiently support financial applications.
Here's a breakdown of the basics in financial domain testing so that you better understand how to test for finance domain projects.
What Is a Finance Domain?
Finance domain projects cover a wide range of economic services offered by the finance industry for organizations that manage money. Professionals that perform financial domain knowledge testing understand the requirements of the finance domain industry as well as technology expectations prior to testing financial apps and software programs.
Types of Finance Domains
To better understand what a finance domain is, let's take a look at types of industries that require financial domain knowledge testing. An extensive range of companies and organizations depend upon finance domain knowledge, including banks, credit unions, insurance companies, credit card companies, consumer finance businesses, investment funds and stock brokerages.
Testers with a strong understanding of the financial industry tend to work on finance domain projects for these types of finance domain businesses:
Banking: This type of finance domain carries out the business of banking. More specifically, an organization within the banking domain creates and manages customer accounts and accepts deposits. These deposits are then channeled into lending activities through direct loans or indirect

capital markets.

Insurance: In the insurance domain, a contract exists between the insurance company and the person seeking insurance. In this contract, the insurer agrees to take on the risk of the insured person against specified future events or losses. In return, the insured person provides regular payment to the insurance company

as premium.

Investment: A corporation within this type of finance domain engages in the business of managing, selling and marketing funds to the public. Investment companies can be either privately or publicly owned and focus on investing the pooled capital of investors in financial securities, either through a closed-end fund or an open-end fund (also known as a mutual fund). Many within the investment domain also offer investment services including portfolio management, recordkeeping and tax

management services.
The Importance of Testing
Financial Domains
Just as the goals of any type of testing focus on competition and customer satisfaction, the same is true for a product in the financial domain. The most important aspect of a financial product is data security, as nearly all products within this domain contain personal information of users. When testing products in this domain, it is pivotal to ensure that each transaction will be secure and accurate. Thus, you must ensure a proper, effective and efficient security testing infrastructure is put in place for your product.
In addition to a security testing infrastructure, it is important to consider performance testing as well. Performance testing products in the financial domain can help ensure that product or software runs smoothly across all the latest platforms, browsers and systems. This again provides the product another layer of defense against cyber-attacks and leaking of personal information.
Testing financial domains requires special knowledge in addition to standard processes of security and performance testing. It is important that you train your QA team and that they are educated in the financial domain. This means that they need to understand industry specific terms such as loan origination, funds transfer, credit system, capital, risk, funding, banking and payments among others. Understanding these terms can help your team be successful in releasing products and updates faster.
Challenges With Testing
Finance Domains
While challenges can be expected during testing, the finance domain presents unique issues not present in many industries. Be cautious of these pain points of finance domain testing:
Enforcing Strict Security Systems: Private information and asset protection rely on a secure software system. It's up to the QA team to implement a secure testing environment to ensure a secure system is launched to market. Development must implement additional security measures, such as one-time passwords, access validation codes, and two-step authentication. Without outsourced security testing services, testing for finance domain projects tends to take longer than projects within other industries in order to support these

safety protocols.

Complex Databases: An extensive variety of accounts are needed during financial domain knowledge testing. Testing teams must rely on automation tools to verify database connectivity as well as control its logical functions. VPN connections provide additional security during all phases

of testing.

Third-Party Integrations: Defects, issues and bugs arise when testing any third-party connection. Furthermore, integration incompatibility or denied access often occurs when testing financial domain apps. QA teams must apply their finance domain knowledge when these issues arise during the

testing process.

Data Support in Real Time: Users expect real-time access to the information they need when using a financial app. QA teams must develop and execute test cases that focus on testing network connectivity throughout the development cycle to confirm that the software application meets

customer expectations.
Primary Tests for
Financial Domains
Security Testing

The biggest threats to finance domain projects are cyber-attacks and fraudulent activities on software applications involving financial transactions. Software sensitivity is supported by running a variety of security tests that ensures that the application remains compliant with security regulations and standards including OWASP (Open Web Application Security Project) so that no private data can be accessed publicly. Financial domain knowledge testing should include penetration testing, security scanning, risk assessment and vulnerability scanning.

Performance Testing

A performance failure within a software product can lose thousands - sometimes millions - of dollars for the company, its investors and its customers. Testers must ensure that the financial application performs consistently, even during times of high traffic or high demand. Your development cycle should include load testing, stress testing, volume testing and endurance testing.

White Box Testing

In white box testing, testers possess strong finance domain knowledge and deeply understand the inner workings of the financial application to be tested. White box testing is essential for mission-critical components of the software product—in other words, any aspect that is considered the IT backbone to operate the financial application.

Mobile Testing

Managing finances on the go is the new norm. Mobile testing confirms that the financial application functions, operates and performs as expected on remote devices including smartphones and tablets. If the software application cannot be supported successfully across all responsive devices, the financial software is not ready for market launch.

Usability Testing

Financial applications are accessed by a broad range of users, from customers and investors to financial support teams and administrators. Usability testing confirms that the software product features a simple, efficient design that allows all users to easily interact with the application. An easy-to-use app increases the number of customers who can benefit from the financial application. Testing should include comparative testing and exploratory testing.
Here's How to Learn Finance
Domain Knowledge
Ensuring that your QA team has financial domain knowledge can ease a client's mind knowing that their product is in safe hands. In addition, a client can be at ease knowing that their users' personal data is safe and secure.
The best way to learn finance domain knowledge is from the experts. By partnering with a QA services provider like QASource, your team has access to our 800 skilled engineers with years of experience in financial domain knowledge testing. The benefits of financial service providers outsourcing QA include instant access to finance domain knowledge so that your projects stay on track. Get in touch with a QASource expert today.