There is a second generation of automation tools that entered the market, which are smart enough to automatically adapt the test scripts in case of UI changes. Our current expert series will discuss such tools.
Trends Of Adopting AI Solutions
Below is a heat-map published by AI-expo, which defines the usage of Artificial Intelligence (AI) in different domains in present and next 4 years. If we look at the second row, "SaaS/Software Automation", it is a prediction that in next few years, AI-based tools will rule the software automation industry.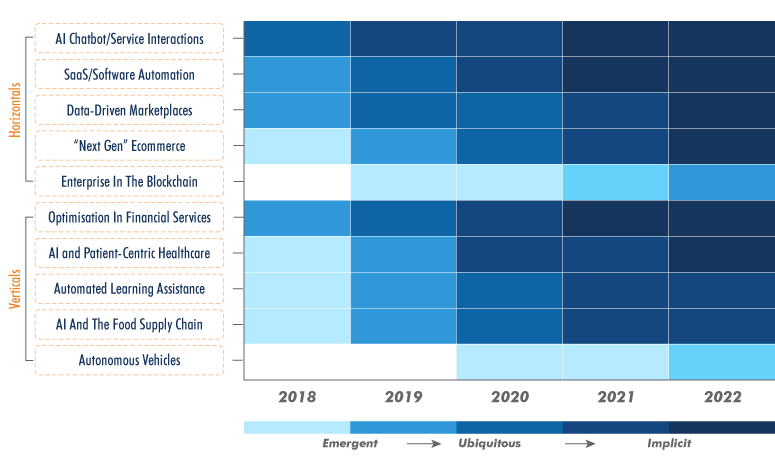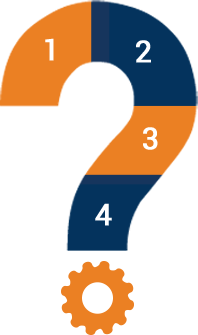 But the questions are:
So let's find out the answers to these questions.
Why Do We Need AI In Software Test Automation
?
There are many day-to-day challenges faced by the QA industry and engineers. These can be resolved by integrating AI with our existing QA tasks or automation frameworks/tools. Here is the list of few challenges:
To provide the maximum test coverage within the specified timeline window through automation test scripts which is not possible with manual tests
Regular changes in application UI, which leads to failures in automation suites and unwanted maintenance cost
Huge efforts being spent in adding object locators and designing the reusable libraries
Regular analysis of test execution reports providing decision making data to stakeholders
Maintaining the uniform code quality throughout the automation frameworks
In future, automation of AI-based apps will be a big challenge
What Benefits Will Be Achieved By Integrating AI With Automation Tools/Frameworks
?
Now, let's see how AI based automation tools/frameworks could help the QA industry in resolving the challenges mentioned above
Automatic creation of new test scenarios by learning, analyzing, and filtering the existing automated workflows created by AI
Auto-development of automation frameworks, after understanding the application flow and by locating the elements of application
Auto-healing of automation test scripts, in-case of any changes in application
Implementation of smart visual verification techniques in automated test scripts which are rarely done by current automation frameworks
Detection of anomalies like broken links and JavaScript errors
Monitoring of test scripts execution during off hours
Generation of decision making and predictive analysis reports based upon test execution results
How Can AI Be Integrated With Existing Automation Frameworks
?
Below is the high-level architecture/workflow through which we can understand the integration of AI with our current automation tools
Are There Any Smart Automation Tools/Frameworks Available In The Market
?
The first generation automation tools have been ruling the market for the last two decades. Generally, the automation engineers manually identify the UI elements to develop the automation test scripts in these tools. The common challenges faced by most of the automation engineers is maintaining test scripts in case of UI changes and ensuring the maximum test coverage through automation testing. To solve these challenges, a second generation of automation tools have entered the market, which claim to automatically adapt the test scripts in case of UI changes and also develop its own test scenarios based upon the flows automated by the user. Some of these tools are listed below: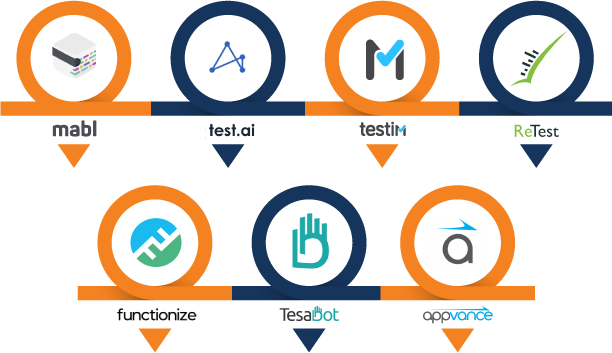 Conclusion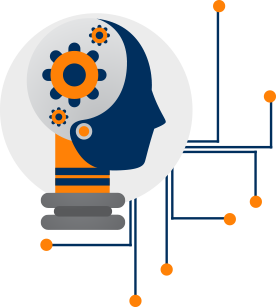 AI is going to play a vital role in the future of automation testing. However, it is not going to change testing overnight. As AI continues to find its way into the automation testing life cycle, organizations are still thinking whether they have to embrace it wholly within their engineering practices. Once AI systems are initially set up in automation testing, product companies can save money and invest it in research and development.
Have Suggestions?
We would love to hear your feedback, questions, comments and suggestions. This will help us to make us better and more useful next time.
Share your thoughts and ideas at knowledgecenter@qasource.com