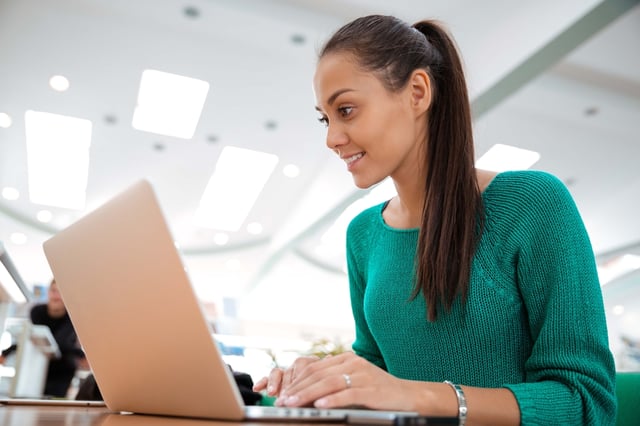 Online learning is no longer an optional approach to delivering quality education. Our shifting times emphasize how education delivery must be available for remote learners, from students seeking higher education to high schoolers wanting to graduate this year. Even corporate businesses are struggling to educate their employees on crucial trainings without an LMS in place.
There's no better time to enter the educational application software market. But is your LMS designed to support today's learning demands?
In our first blog post of this comprehensive learning management systems series, we examine all must-have LMS features essential for your educational platform to succeed in today's ever-changing environment.

What are the Most Important LMS Features
Course Design & Creation
By definition, learning management systems are educational application software systems that facilitate the management, delivery and measurement of online educational courses, training programs or development programs. It should then be a surprise that not all LMS software providers feature a course creation module. Instead, these systems require you to build the course content within a separate system and then import it into the program.
A well-structured LMS should encompass all phases of a learning process. When developing a learning management system, include a course creation module that includes eLearning automation capabilities and a simple design that supports both learner and instructor.
Instinctive User Interface
Focus first on the intuitiveness of your user interface. When a learning management system is not easy to use, users will drop or abandon the course, no matter how feature-packed your education software is.
What connects the learner to the LMS is the user interface. Successful learning management systems feature a welcome screen, menus and onboarding guides as well as icons, buttons and text formatting that are consistently branded across the system and guide all users throughout the entire learning process.
Security
The growing popularity of educational application software systems makes learning management systems more of a target for hackers or cybercriminals. Your LMS should protect your sensitive data and safeguard your information.
Ensure that your LMS can prevent security threats. Are your servers protected? Are encryption protocols in place? Are data safety policies developed within the system that protects both the platform and its users?
Mobile Compatibility
Never assume that your users have access to a desktop or laptop computer. Many learners only have access to a tablet or a smartphone. And many instructors may need to update a course or review learning analytics when away from their desk.
Learning management systems must be designed with mobile responsiveness in mind. Your education application software should support the HTML5 framework that allows a wide range of viewing abilities across all models and makes of mobile devices.
Reporting Customization
Reporting is standard across educational application software systems. However, being able to customize reports and analytical data within learning management systems is not.
Why is this important? Having only one way to look at analytics may not provide the insight a particular learner or instructor needs. Adding reporting customization fields allows your user to tailor reports to the insights each user needs, from tracking learner performance to highlighting areas of a course that require finetuning.
Assessment Capabilities
Alongside a powerful reporting tool, instructors rely on the ability to create online training assessments within the educational application software to gauge how well learners are processing the course materials as well as track learner engagement throughout the online course.
Branching scenarios, task-based simulations, online interviewing, group collaboration, blogging, online forums - should all be options for an instructor to implement in an online course within your LMS. Successful learning management systems can also generate eLearning automation assessments so that quizzes and tests can be created based on the course materials loaded into the system.
Data Storage
Instructors shouldn't be limited on what supplemental course materials to provide learners because there's not enough data storage space in the system to support it. And learners shouldn't be directed outside the educational application software to view course-related media.
Think of learning management systems as virtual content libraries. Your LMS should be able to host a variety of educational materials including videos, slide decks, podcasts, PDFs, images and training manuals (to name a few).
SCORM/Tin Cam Integration Capabilities
The biggest players in the educational application software industry are SCORM-compliant, and it's easy to see why. SCORM - which stands for Sharable Content Object Reference Model - allows learning management systems to communicate with other applications.
And Tin Can takes this a step further. This xAPI or Experience API incorporates the ability to track a vast amount of information across numerous platforms, even those not supported by SCORM. This integration enhances your eLearning automation capabilities and allows your LMS to track learning in any context.
Authoring Tools
The more variety of assessments and course materials that an instructor can provide, the more likely learners will remain engaged with the learning process. Instructors need the ability to gather open-ended answers from learners to further gauge their understanding of the course materials. Your LMS should be able to support different kinds of content that requires submitted answers, be it a quiz or questionnaire.
Scalability
For most universities and organizations, a top priority when exploring learning management systems is its scalability. Your educational application software should keep in mind that student enrollment and required courses can fluctuate depending on the success or the needs of the business. Incorporating scalability within your LMS design prevents development headaches down the road and stops users from seeking out another tool.
--------------------------
An LMS can only deliver value if your team maintains proper testing practices before product launch. By testing the following types of tests can you ensure soundness within your learning management system:
Performance testing
Functionality testing
Security testing
User experience testing
API testing
Multi-platform testing
Not sure where to start? Partner with a QA services provider like QASource to test your education application software. We have over 800 experienced engineers skilled in QA testing learning management systems who are available even during high-demand seasons. Our team of experts can accelerate the testing process so that you can reach market launch sooner and fulfill today's online education demands. Get in touch with a QASource expert today.