XaaS takes into consideration the number of products, tools, and technologies that vendors deliver to users as a service over the network. In this Technocast, check out how QASource can help you with XaaS testing.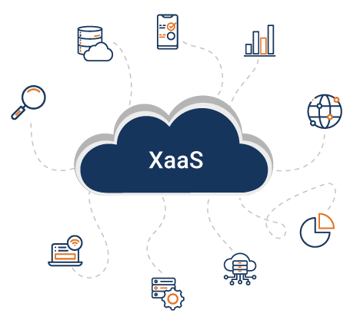 Cloud computing's "as-a-Service" model has continued to gain traction in recent years. You are already familiar with the concepts of SaaS, PaaS and IaaS, but now we are seeing the evolution of a new, and all encompassing concept, that is, XaaS, or Everything-as-a-Service.
Xaas encompasses the many technologies and tools that are provided by vendors as a service over the internet, as opposed to providing them onsite to an organization. This not only helps to reduce operational costs, but also allows IT teams to streamline their operations and optimize resource allocation.
What Is Everything as a Service?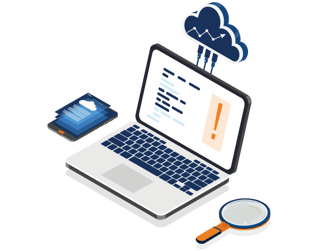 XaaS is an abbreviation of Anything-as-a-Service or Everything-as-a-Service. It means anything (tools, softwares, products) can now be provided as a service with the help of cloud computing and remote access.
Examples of Everything as a
Service Model
Following are some of the examples that come under the XaaS model: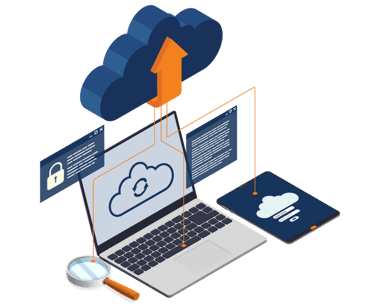 DaaS (Desktop as a Service): The primary responsibilities of a DaaS provider for desktop apps include data storage, security, and backup. Additionally, a client can utilize external servers to work on PCs.

CaaS (Communication as a Service): This paradigm includes applications for several forms of communication, including cloud-hosted VoIP, IM, and video conferencing services. It also saves money and cuts down on time costs.

TaaS (Transportation as a Service): The modern world has a wide variety of apps that support transportation and mobility. The model is both practical and environmentally friendly.
Characteristics of XaaS
XaaS is a simple business model that can be applied to all services, softwares, platforms, and goods that can be outsourced. The main characteristics of XaaS are as follows: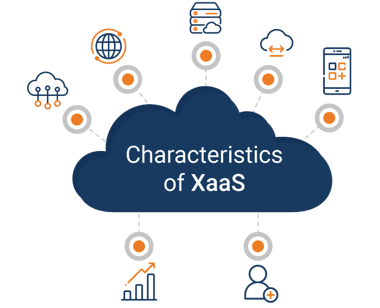 It is fueled by cloud computing: Cloud computing and IoT have enabled the services and relevant data to be

delivered remotely.

Multiple User Interfaces: An interface is available to use the service from any device and

any localization.

Pay Per Use Model: Services are given on a 'pay per use' basis which makes

them cost-effective.

On-demand Self-service: Human administrators are not required. Users themselves can provision, monitor, and manage resources

as needed.

Rapid Elasticity: The resources can be scaled in or scaled out quickly as

per requirement.

Shared Resource Pools: The IT resources (e.g., networks, servers, storage, applications, and services) are shared across multiple applications

and users.
XaaS Trend
Let us take a look at the market trend of the XaaS model in recent years:
Everything-as-a-Service (XaaS) Market
Market Forecast To Grow at a CAGR of 24.8%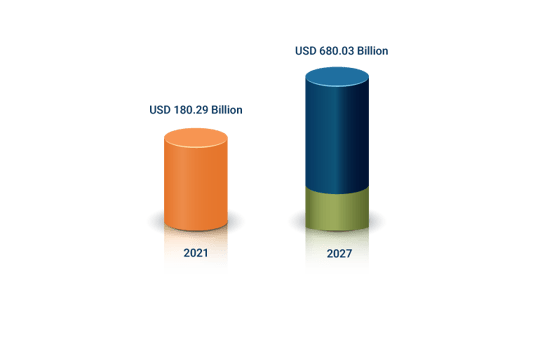 Source: https://www.researchandmarkets.com/reports/5455874/everything-as-a-service-xaas-market-global
Benefits of XaaS
The market for cloud computing and Internet-based services is rapidly developing as a result of the numerous benefits they give to both enterprises and end-users. The following are the notable advantages:
Cost-effective

XaaS can prove to be cost-effective for companies as they no longer need to invest in multiple products, like software, hardware, servers, storage, security, and infrastructure, and can install all of them on the site. They can now purchase all these services on a subscription basis and reduce overall expenses.

Agility

With XaaS, companies now have quick access to new technologies and also the ability to scale up or down as per business requirements. Thus, they can now introduce new solutions or apps more quickly, which would not have been possible earlier owing to financial constraints, thus making them more agile.

Increase in Overall Productivity

XaaS increases the overall productivity of a business as it streamlines the processes and also automates long procedures. It also saves time spent on maintenance and managing servers and scaling the infrastructure, thus increasing the overall efficiency and productivity of the business.

Data Analysis

XaaS provides easier access to big data tools and techniques for data analysis and interpretation. Thus companies get an insight into their numbers and can make better-informed decisions, that too, at much lower costs.

loading="lazy"

Data Backup and Protection

XaaS services ensure a constant backup of the systems and thus, all the data is protected. Data recovery becomes easier in case of any data loss.
Challenges of XaaS
The XaaS service providers are faced with difficulties as they adjust to new competitive, governmental, and commercial landscapes around the world as they seek to make their offerings more widely available as a result of the rapid expansion and adoption to scale. Some of the significant challenges are as follows:
As XaaS runs on the internet, internet downtime is a major issue. Internet outages, server down, and bandwidth fluctuations result in business interruption and can cause huge financial losses.
If too many XaaS users access the same resources simultaneously, they might face performance and latency issues. This can slow down the whole system affecting the overall productivity.
XaaS systems might be complex for a company's IT team and they might find it difficult to troubleshoot in case a problem arises. The IT team would need to be educated about the underlying XaaS technology.
4
Difficulties in Integration & customization
XaaS models do not provide many customizations and operate on standard services only. They also pose issues when trying to integrate with other cloud services and systems.
XaaS Model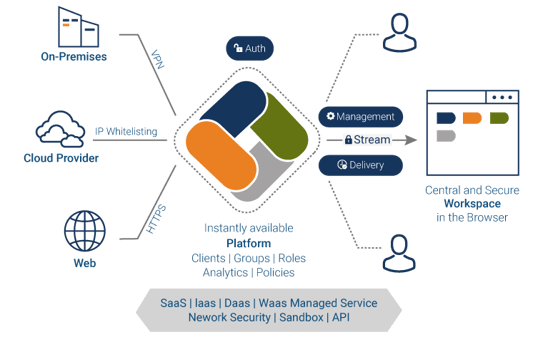 Role of QASource in XaaS Testing
Following are some of the areas that QASource's testing experts deal with in Everything-as-a-Service testing:
IaaS: Earlier, QA teams used to test on the local environment and execute on the cloud. However, now the teams have moved to modern cloud infrastructures. QA teams can now work on cloud environments with cloud and non-cloud tools. The engineers have deep knowledge of a variety of frameworks, coding languages, tools, and expertise in maintaining

that infrastructure.

SECaaS: The dedicated security testing team aims at maintaining confidentiality, integrity, authentication, availability, authorization, and non-repudiation of the

software applications.

PaaS: This is a distributed computing concept where a third-party supplier rents out hardware and development tools to customers via the internet. Experts at QASource perform performance testing, security testing, compatibility testing, load testing, functional testing, network testing, and automation testing of

the platforms.

SaaS: It involves clients paying for any software per unit of time of consumption, with the cost reflecting supply and demand in the market. We provide business logic testing, compatibility testing, load/performance testing, security testing, and

layer testing.

HaaS: A team of HIPAA-certified testing experts, knowing regulations, works on healthcare as a testing service. We work on performing the conformance/compliance testing, API testing, automation testing, and functional testing of the mobile and web apps used in the

healthcare industry.
Conclusion
Organizations adopting the transition of product-based assets to offering them in As-a-Service mode are immensely growing soon. XaaS is enhancing the benefits of cloud computing for industries and supports various business objectives from human resources to traditional or computer security. Many IT companies have adapted XaaS to save resources and time. We at QASource have trained our teams to work on such applications. Contact QASource now to implement the best-in-the-industry software testing services for software products.
What QASource Provides as a Part of XaaS Package?
Have Suggestions?
We would love to hear your feedback, questions, comments and suggestions. This will help us to make us better and more useful next time.
Share your thoughts and ideas at knowledgecenter@qasource.com