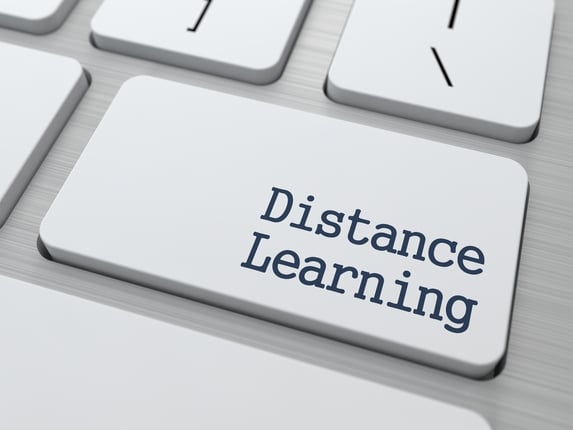 Over time, technology has evolved to provide better experiences and services to customers. Technological upgrades have impacted almost every sector, and the eLearning sector has also felt its effects.
Earlier, we used to have classes for any course in person. Then, distance learning courses were introduced, and now we have digital training via eLearning using the latest technologies.
The eLearning market is more than 21 years old and will continue to grow every year, and will grow up to $375 billion by 2026. In 2019, the eLearning market had already surpassed $200 billion.
Also, the eLearning market for mobile was at $38 billion in 2020.
This research from Guide2Research reveals that the future of eLearning is bright as it is moving towards more inclusive and collaborative approaches. It's being revolutionized with a strong focus on versatility, connectivity, and student-centered learning.
Some of the reasons why eLearning is the next big trend in the education industry are as follows:
It supports every sector
eLearning is cost-effective and flexible
The eLearning platforms are available and accessible

from anywhere

The platforms offer a wide selection

of programs

eLearning platforms are versatile enough to cater to everyone's

specific needs
New Technologies in eLearning:
With the increase in demand for eLearning platforms, several new technologies have been introduced, to make education more interesting, attractive, and accessible. Let's discuss each of them:
Gamification

Gamification plays a crucial role in enhancing the student's engagement and interest in the subject. Learning through games keeps the students engaged with the course for a longer time. Students are provided with avatars, and badges for appreciation and motivation. The following are some of the benefits of gamification in eLearning:

It makes learning easy and attractive
It increases learners' engagement
Enhances creativity
Gamification helps to provide

real-time feedback

It helps to enhance the overall learning experience and productivity

of students

Microlearning

Microlearning mainly deals with short-term learning activities where less effort is required in any individual session. It involves short-term-focused strategies designed for skill-based understanding, learning, and education. It offers a way of learning where one can have an idea about what and when they want to learn.

Some real-time examples of micro-learning are:

Watching small instructional videos on browser

or YouTube

Solving mini-puzzles

and quizzes

Receiving instructional messages via Email and

instant messaging

Big Data

Through big data, the trainer can track the progress, social sharing, assessment results, and other data of students. Using this data, the trainers can predict where students can grow or face problems. This way, they can analyze and improve the training materials. It will give students a fair opportunity to accomplish the best outcomes and nurture their careers.

VR, AR, MR, and XR

AR (augmented reality), VR (virtual reality), and MR (mixed reality)-based educational applications improve the educational process. It allows students to acquire information visually after combining digital technologies and learning via any device i.e., mobile, tablet, or laptop.

All these technologies are collectively known as XR (extended reality). It is introduced to accelerate the awareness and adoption of all types of technologies (virtual, augmented, and mixed) in education and corporate learning or training.

Artificial Intelligence

There are many areas in the education sector where AI has offered various opportunities like adaptive learning features, improved learning experience, and learning content. One can see the impact of this technology in all education levels i.e., from kindergarten to higher education.

With the help of AI, smart learning content has developed like learning digital interfaces and digitized textbook guides for students or users of any age. AI is also supporting individualized tutoring, instruction in classrooms, and students with learning disabilities. A few examples are Duolingo, Brainly, and ThinkerMath.
Role of QA With the Introduction of New Technologies
As the scope of technologies is going deeper in the ocean of learning, similar to that way eLearning testing companies are also adapting to the new learning. To be on the same page and parallel enhancing the skills, the companies are getting ready to work with any new technology.
The QA companies providing eLearning app testing services never believe in only doing simple testing for verifying the eLearning app. This is because there are many more things available apart from content, punctuation, and grammar.
The functionality and user-friendliness also play a vital role in refining the application to work perfectly. QA majorly works in this area so that the end-user does not face any issues. The advent of new technologies in every domain has pushed the QA community to adjust to the change. Here are some of the examples:
Testing AI-based applications would require an understanding of machine-learning algorithms and natural-language

processing techniques.

Increasing demand of software development engineers in testing for adding more efficiency and accuracy in

automation testing.

Data ingestion, data storage, and data processing would be required to test any

big data application.

AR/VR applications involve testing the full stack of software, hardware, and firmware beyond the manual

testing approach.

Cloud computing, CI technologies, code-less automation are some of the technical skills that every tester should be acquainted

with nowadays.
QA professionals need to acquire the required skills to master the testing tools to efficiently test eLearning software and provide the best experience to the end-users.
QASource helps you implement cutting-edge eLearning app testing strategies by deploying professional and skilled QA engineers.
To know more, contact QASource now.