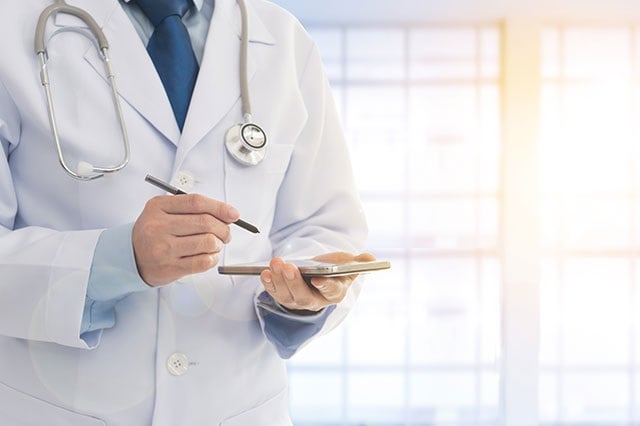 The breadth of expert testing required to bring a healthcare app to market can be overwhelming. The final product has to be robust enough to handle large flows of electronic health information across intricate interoperable networks while conforming to high transport, terminology and security standards. As quickly as possible.
On top of all that, a single flaw within this heavily regulated industry can render the product useless and your reputation as a developer seriously damaged.
QA healthcare domain testing demands the full range of modern tools, techniques and knowledge. It requires the speed and resource efficiency of automation and the insight and experience of manual testing. They work hand-in-hand, with automation freeing up valuable engineering resources that can be better used on targeted manual testing.
The rewards for success in the healthcare domain reach beyond commercial interests to produce better patient outcomes and a higher quality of care. To get there, you have to use every QA advantage available.
The Advantages of Automation for Healthcare Domain Testing
Healthcare software testing covers a lot of ground, from clinical documentation management and payer systems to medical device software and patient apps. Comprehensive testing in healthcare domain is just as complex and varied.
It is important to test your software with an equally diverse and complex strategy. And you'll need automation to execute that strategy if you plan to stay on schedule. There is simply no better way to process the necessary volume of data across multiple platforms, operating systems and environments.
Make sure you have an expert select the right automation framework and tools to suit your individual project. The investment saves time and increases product quality in several ways, including:
Data-driven tests that securely handle patient information across multiple test executions
Authentication validation testing that ensures the functionality of security features
Repetitive test execution to run test cases as often as is necessary to guarantee the accuracy of an application's processes
Report verification that helps you quickly identify and resolve any issues
Multi-platform verification to search for OS-, browser- or platform-specific bugs
Faster regression testing that lets engineers check existing features alongside newly written code
All these features help create better products faster. However, not all test cases can be automated. Given that reality, automation plays a vital role in freeing up valuable engineering resources from repetitive, boring tasks so that their expertise can be put to better use on the manual aspects of QA.
Maximize Manual Testing
To achieve the high standards of QA necessary for successful software testing in healthcare domain, automation needs to be supplemented with a manual testing component. Applying the vision of human engineers increases your test coverage, allows you test from the end-user's perspective and lets you perform tests in real time.
It is particularly useful for healthcare domain necessities such as:
Exploratory testing
Security testing
Usability testing
Error handling testing
Functional testing
Boundary testing
Load testing
User acceptance testing
When automation testing frees your engineers from repetition and vast data volumes, they are able to better execute manual tests that add real value to your product ROI.
The effective deployment of manual and automation testing comes down to proper test planning. Knowing what can and cannot be automated comes from experience. If your team does not have that experience, bring in experts who do.
The Healthcare Domain Frontier—Outsourced QA Services
Outsourcing a QA expert allows you to stay in control of your project while rapidly expanding your team's capacity and skills. Furthermore, as healthcare domain testing experts, your QA partner can share the responsibility of meeting and outperforming the strict government and commercial standards that ensure patient security and confidentiality.
Take a look at the difference a qualified QA partner can make in the real-world example below. Here, a global healthcare/life sciences company of around 800 employees was able to rapidly upscale its QA efforts toward the successful launch of a health sector app.
Maximizing their automation efforts saved the company around 200 hours of work per day across their team and resulted in two consecutive legacy releases in two-week windows. The QA partnership and flow of test efficiencies are estimated to have saved nearly $35,000 over the life of the project.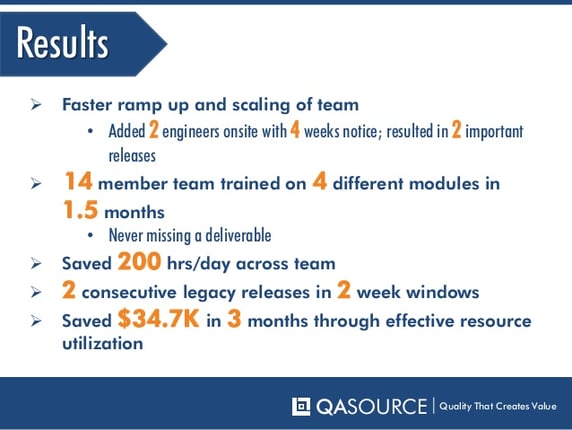 The key to that kind of production is smarter testing. Only a dedicated, expert QA partner can design a test framework that emphasises quality and product performance while also delivering speed and resource advantages.
Healthcare domain testing is one of the most demanding and rigorous fields of software development. If you are not an expert, outsource.
QASource engineers have delivered more than $11 billion in successful customer exits for some of the world's leading enterprises. They are healthcare domain experts with the knowledge and skills to quickly onboard with your team and begin contributing to a robust, dynamic product from day one. Contact us today for a free quote, or call +1.925.271.5555 to get started.