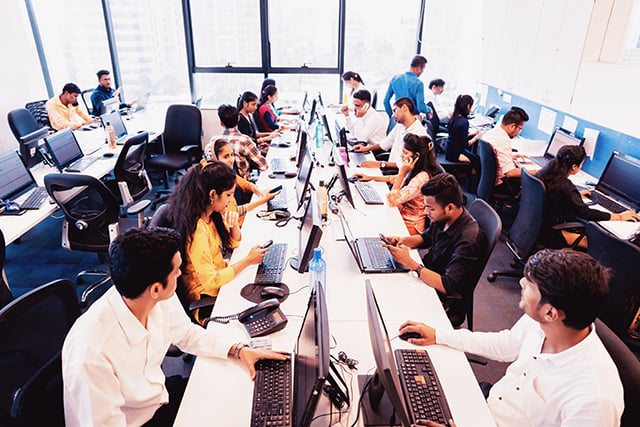 Product businesses today need to stand up to the agility and scale in order to keep up with the demands of its users. This calls for unmatched quality assurance, reduced time-to-market, and reliability - something the traditional QA process may not deliver. Eventually, the creation of a Testing Center of Excellence (TCoE) represents your commitment to quality.
Traditional methods of quality assurance cannot keep up with the challenges in consistently delivering software that is time-bound, robust, and efficient. Due to this, more companies are leaning towards the idea of establishing a centralized testing service. Does your business need a TCoE? If your answer is 'Yes' to any of the following criteria, then it's time to consider one.
What is TCoE?
It is a framework consisting of people, processes, infrastructure, tools, and technologies. TCoE helps in delivering highly efficient testing services and ensures high quality delivery. A TCoE, constructed in a way that can assist testing teams and streamline numerous testing processes, accelerates the testing life cycle.
Components of TCoE
QA processes include understanding the requirements, managing resources, and efficiently performing testing.
Human resources feature manual test engineers, automation engineers, project managers, and the tools and technologies that build robust automation frameworks.
Why Do We Need TCoE?
For large-scale organizations, it is important to stay focused and stay ahead of the game. They need to constantly improve their processes in order to deliver higher quality results. In recent years, many businesses have constructed a Testing Center of Excellence to cater to their needs.
Below are a few reasons why companies are opting to create TCoE:
Proficiency: Experts reduce setup cost and software maintenance by planning the resource utilization.
Better Quality: With formal steps for test planning, execution, verification, metrics-based tracking and skilled resources, organizations produce high-quality software.
Faster and Efficient Releases: A major challenge for a QA team is to provide an accurate estimate of the closure of testing activities. Introducing a TCoE can accelerate application releases for faster time to market.
Increased Agility: With the integration of a TCoE, an organization can serve all aspects of product development to provide better responses to challenges, and allocate efforts to high priority projects.
How to Implement a TCoE?
Constructing a TCoE requires quality principles and the testing experts should consider all critical aspects.
A TCoE framework should be the perfect blend of expertise and domain knowledge to cater the best and out-of-box testing solutions.
The TCoE team should contain a mix of all the testing technologies to serve the requirements of all product engineers, establish commendable quality processes, and deliver efficient results within the budget and deadline.
Below are the steps you should consider while constructing a TCoE:
Identify the Skilled Workforce: An objective in mind and the required skills will help you achieve the bigger goal of delivering a quality product.
Organize Regular Trainings: Regular training is necessary for your team to build their skillset. Your functional team can find the solution for complex scenarios, and the automation team can learn new tools and technologies.
Ensure Process Documentation: Keeping the process well documented prevents deviation from the standard processes. It also helps in better cooperation between your teammates and helps to focus on individual tasks.
Select the Right Tools: You should select the tools at an early stage of the testing life cycle as it helps in the better execution of testing and reduces the rework.
Automate the Recurring tasks: Automating the repetitive tasks can significantly reduce the time invested in

everyday tasks.
Your Testing Center of Excellence should aim at promoting the enterprise business by designing custom QA strategies and developing standard processes with efficient resource allocation. Partner with QASource to get business benefits like cost savings, lower technology risk, and fewer defects in production.