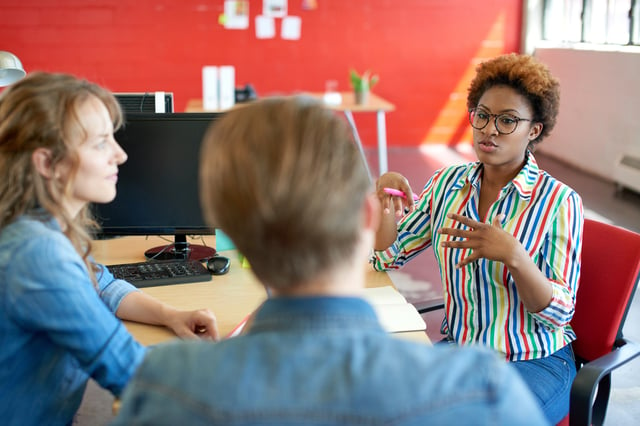 Congratulations on purchasing your LMS! Now comes your next challenge: implementing this learning management system into your organization.
It's true that integrating your new system with your other technologies is a critical process. Fortunately, it doesn't have to be a daunting experience. In fact, you can expect impressive results when you have the right team and detailed strategy in place.
In our third blog post of this comprehensive learning management systems series, we explore how your team can successful implement an LMS so that you meet deadlines, exceed business goals and transition users seamlessly onto the new educational application software system.
Define the LMS Strategy and Develop a Plan
Success is the result of a solid strategy, and it's no different for implementing learning management systems. There's no purpose in executing your educational application software if you haven't defined all that you want to achieve with this implementation.
You're on the right track if your team can answer the following questions:
Who are your learner audience?
What are your business goals?
What are your learning objectives?
What is your engagement strategy?
What is your measurement for success across

these initiatives?
Develop a plan that's specific to the needs of your organization. A great starting point is to ask your LMS vendor to supply a project planning template that already incorporates the vendor's implementation responsibilities. During these discussions, include your IT team who can provide accurate estimates on the technical aspects of the implementation, including data cleanup, user acceptance testing and end user support.
Designate Team Members
and Responsibilities
Assemble the key players of your organization who have the time and skills to dedicate towards this process. You'll find that your learning management systems implementation team connects peers from a variety of departments, including Learning and Development, IT and HR.
An ideal educational application software implementation team should include (but not limited to):
Team Leader
Oversees the overall LMS implementation from start to finish, communicates directly with the LMS vendor and handles any

arising issues

Project Manager
Documents all benchmarks, tracks every significant milestone and ensures team meets

all deadlines

eLearning Specialist
Supervises the transfer and development of static and eLearning automation content within the

new LMS

L&D Administrator
Confirms the LMS aligns with organizational goals through certification, compliance, course structure and

user reports.

IT Expert
Manages the technical side of the integration process through various

system monitoring
Determine the Timeline for
LMS Implementation
Let's assume that your team has allocated sufficient resources and defined your organization's requirements in advance. It's still likely that it will take your organization close to a year - if not more - to implement your LMS.
How long it takes depends on who's hosting your LMS. Implementing onsite-hosted learning management systems often takes 6-12 months to complete while implementing vendor-hosted or cloud-based educational application software solutions often takes 3-9 months. This doesn't take into account the variability and complexity in supporting the operations of your organization.
Keep this in mind when determining your LMS implementation timeline. Be realistic with your deadlines and build in enough time to reach every benchmark. Communication is key throughout the integration process, so decide what type of communication needs to occur for each step of the process.
Create a Content/Curriculum Plan
The value of implementing learning management systems is to deliver a quality eLearning automation experience through educational and training content, resources and videos.
Is your content ready for launch?
The sooner you can assess the content for your educational application software, the better. Consult your L&D administrator for insight on previous learning initiatives to help determine which direction your new curriculum plan should go. Your training team can provide valuable insight on courses or learning paths that would provide the most benefit to your learner audience.
Consider asking yourself these questions when refining your curriculum to verify that your new content plan is on track:
Do courses include multiple learning activities, such as pre-tests, reading assignments, webinar sessions, final test

and surveys?

Are any/all learning activities of each course mandatory

or optional?

Is there a specific sequence for the learning activities of each course to

be completed?

Are any courses optional or are all courses within the

curriculum mandatory?

Is there a specific sequence for the courses of the curriculum to

be completed?
Data and Systems Integration
and/or Migration
Transferring learning assets onto learning management systems takes time, whether you are transitioning from a classic LMS platform or launching an educational application software system for the first time.
Chances are, your team has a significant number of courses, data and instructional assets that can potentially be transferred, so it's important to decide which of these assets are essential for launch and which of these assets can be archived. Consult your legal team to validate your decision or to advise on which files must be kept, such as course completion records and recognition of prior learning. Ask your IT expert to review any instructional assets to verify its ability to integrate within the new LMS.
Trial Run and Training for
Internal Users
Test, test, test. Gather a group of testers, be it internal peers or an external QA services provider who can test out the educational application software. That way, you have a full team who can verify that your LMS is ready for launch.
Rely on your QA experts to develop strong test cases designed for testing learning management systems, from eLearning automation testing to security and performance testing. Document all issues that arise during testing and report any concerns to your LMS vendor or necessary internal team members. Performing these LMS testing best practices is the best way for your team to validate the soundness of your system.
Once your LMS passes the test, it's time to train your internal users and external partners who intend to use the learning management system. An online webinar or in-person instruction are great options in delivering step-by-step guidance so that your users transition quickly and smoothly onto the new LMS. Consider how you will communicate all phases of the training to your new users, from an announcement of the new LMS to post-training resources.
Deploy Your New LMS
It's finally time to launch your educational application software! But how? Do you plan to fully launch your LMS overnight? Gradually phase out your old LMS? Run both learning management systems in parallel until training is complete?
Regardless of plan, ensure that internal communication is in place to inform users of any blackout periods between turning off the old system and going live with the new LMS. Upon launch, execute any applicable test case to confirm that the LMS performs as expected with no showstopper glitches and that data remains secure within the new system.
---------------
There's high value in upholding strong communication practices throughout every phase of implementing your learning management system. Thorough documentation and clear communication can save your team time and prevent unnecessary issues. Because communication can take a significant time to write, allocate communication roles early in the implementation process so that everyone can designate time and resources to delivering this required communication.
Testing is never done, even after successfully implementing your learning management system. If your team need assistance to continuously test your LMS before and after launch, choose to partner with a QA services provider like QASource. We offer 800 experienced engineers skilled in QA testing learning management systems with around-the-clock availability, including high-demand seasons. Partner with our team of experts who can accelerate your testing process so that you stick to your implementation timeline and reach all of your educational business goals. Get in touch with a QASource expert today.